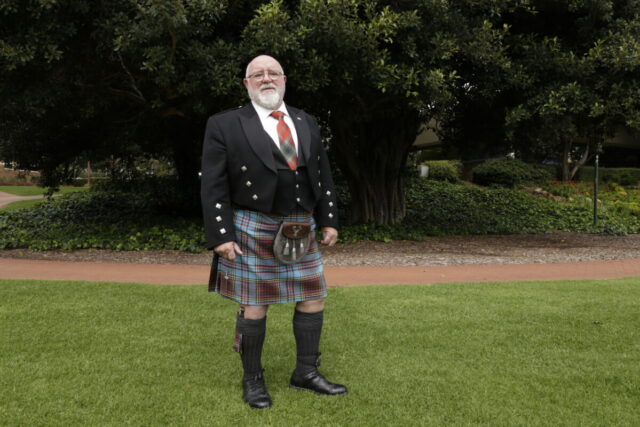 "If you give Scottish people an opportunity to gather together and share their love of their culture, they'll surely come," master kilt maker Heather Anderson said.
Scots and Scottish culture lovers will once again travel from as far away as Geraldton, Albany and Kalgoorlie on Sunday, October 8, for the 29th official Highland Gathering, and 10th annual Perth Kilt Run.
For nearly the past 20 years, Heather and her husband Jim have been a part of the City of Armadale's largest calendar event.
While Heather has officially retired her services, Jim will once again don kilt and dirk as he gives his commanding rendition of Robert Burns' Address to a Haggis.
It's his tenth year giving the address at the Minnawarra Park event, but he said it gives him as much pride now as it did when he was first asked.
"I just love doing it. I love the theatrics, and I like carrying on the tradition," he said.
Jim fondly recalls the first address he gave all those years ago – he was asked to be a last-minute stand-in when the original orator fell ill.
He accepted the role with an hour to spare and set about recruiting the props and other actors.
"It was easy enough to find a fat man and a skinny man who'd be happy to drink a dram of whisky," he said.
"But I had to get on the phone to my butcher and ask him if he could get me a haggis in a hurry. Thankfully we pulled it off, and I've been doing it ever since."
He now sources "the best haggis he's ever tasted" for the address from a Perth butcher named Derek Patterson.
Jim said he refuses to charge money for his services – he's happy to do it for the love of it, and perhaps a good bottle of whisky.
Both Heather and Jim are effusive in their enthusiasm for the festival.
"If you've never heard a pipe band marching – that's really something to behold," Jim said.
"The dancing, and the heavy events are always a good show.
"And you'll see kilts of every different shape, size and colour," Heather said.
"You'll even see dogs with kilts on," Jim adds.
"And the Perth Kilt Run just makes the event even more special. The Highland Gathering's just a really great day out – and it's free."
When asked why Armadale of all places is host to the biggest Scottish festival in WA, the pair are at a loss. There is a town called Armadale in Scotland, but the Perth suburb doesn't have a uniquely large Scottish population.
"I don't really know the history, to be honest. But there's been a festival of some sort here since probably the seventies," Heather said.
"Other places have tried to hold one and it's never worked. The City of Armadale just gets it right, and it attracts thousands of people."
She said the event in 2022 was the biggest she's ever seen.
"We've both watched this event morph and grow to what it is today. It was absolutely manic last year – I think it was a big release for everyone.
"It's just fabulous to see people from all different cultures, each with a piece of tartan on, and enjoying the day together."
Anyone wishing to be a part of this year's kilt run can register now. Kilts are required, Scottish ancestry is optional.
Participants can choose from the 2.5km 'Classic' which is pram and wheelchair friendly, or the 5km 'Warrior'.
All proceeds raised from the Perth Kilt Run will support Headspace Armadale, The Amanda Young Foundation, and Dogs' Refuge Home.
Registrations for this year's Perth Kilt Run are now open at perthkiltrun.com.au. Register online before 5pm on Saturday 7 October for the best price, and limited on the day registrations are available from 7 to 8am.