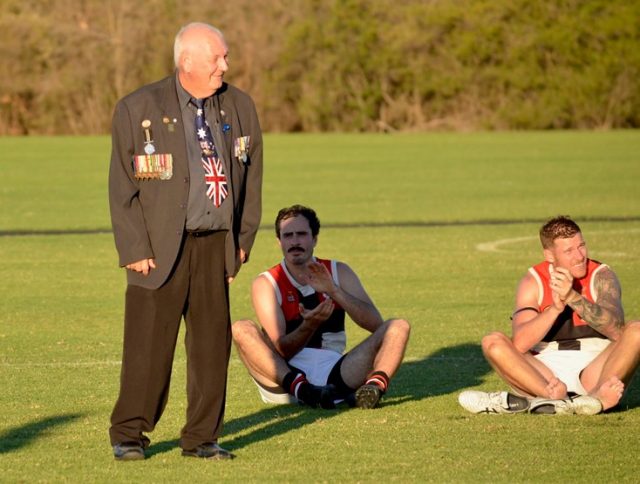 This weekend, sporting clubs across Perth's south-east will pay their respects to all those who fought and died for our country.
Round three of the 2021 Perth Football League will see the Gosnells Hawks' league and reserve teams take on Coolbinia FC in Gosnells.
The community are invited to a special commemorative service at Gosnells Oval, to be held at 2.15pm on April 24.
The ANZAC Ode will be delivered by Gosnells RSL secretary Fred Batt, prior to the league game.
A minute's silence will be held before each match, in honour of our fallen heroes.
"Anzac Day is an enormously significant day for all of us at the Hawks," Gosnells Hawks FC president Michael McCaughan said.
"In this day and age for us at the club, Anzac Day is not just about those who made the supreme sacrifice at Gallipoli, nor is it just about the wars in which we have since played a part.
"It is still about those who have placed themselves in harm's way, so that the rest of us can live our lives in freedom.
"It is also about the loved ones who have supported those men and women, and who have lost so much in providing that support."
The Canning Vale Senior Football Club will be hosting its own commemorative services on the same day, at Clifton Park.
The club will hold short ceremonies prior to each game, led by Vietnam veteran and current Riverton RSL member Vance Bond.
Mr Bond will deliver the Ode, and present medals to the best player from each team.
CVSFC president Scott Branch said all local veterans and community members were invited to attend.
"It has become a tradition for the club, which we believe is important for us and the community," he said.
"It is a great opportunity for people to show their support for veterans and service people, if they can't get to an ANZAC Day ceremony on Sunday.
"Poppies will be on sale to help raise funds for the RSL."