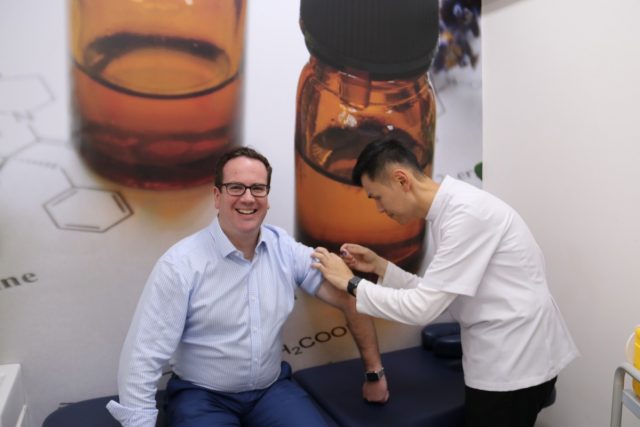 The cold season has begun and Western Australian's are being urged to receive their flu vaccination this year to reduce the risk of contracting flu viruses.
Whilst anyone can catch the flu all year round, it is more likely to happen in the colder months of the year.
Due to the COVID-19 pandemic, last year there was a decrease in flu cases due to the community having a high standard of hygiene practise.
Member for Burt Matt Keogh had his vaccine on Monday May 17 and is warning others to get their vaccine too.
"Last year we saw very few cases of the flu locally due to increases in hand washing and social distancing as a precaution against COVID-19, however this year, as rules have become more relaxed, more and more people are coming down with the common flu," he said.
"Unfortunately, less people in our community seem to be getting their flu jab but more and more are stocking up on cold and flu medication.
"While we wait and wait for COVID jabs, now is the time to get that important flu jab."
The flu vaccine and the COVID-19 vaccines must be taken a minimum of two weeks apart, to provide the most effective result and prevent issues.
Last year was a unique year for flu cases with less recorded due to extensive COVID-19 precautions such as social distancing, and the improvement of hygiene.
Flu numbers are expected to increase again in 2021 and the latest data from the Australian Immunisation Register showed the amount of people receiving their flu vaccination is at less than 40 per cent compared to this time last year.
Mr Keogh said flu jabs are an important way to protect everybody, not just the individual receiving the shot.
"I promise, it didn't hurt and I felt fine afterwards," he said.
"Flu jabs are important way for us all to protect ourselves and those around us from what can be deadly flu for some, so I urge people to make sure they get theirs."
If you are experiencing flu symptoms, consult your GP or a qualified doctor.
For more information on the flu vaccine visit https://www.health.gov.au/news/flu-vaccination-in-2021 or contact your local GP or pharmacy.