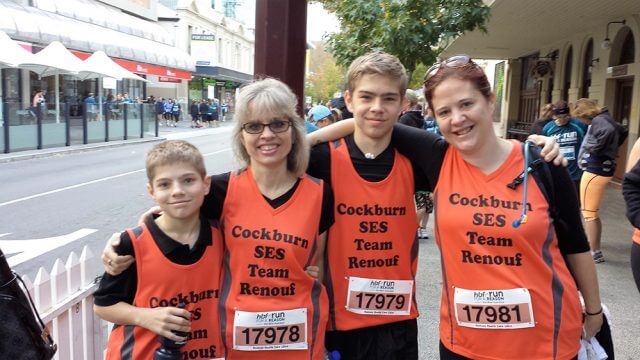 An Armadale family will band together with a team of SES volunteers to conquer the HBF Run for a Reason on May 22 in honour of a man who dedicated himself to helping others.
Sisters Jane Jarvis and Lucy Renouf, along with family members and the Cockburn SES unit, will participate in the 12-kilometre event to raise money for the Cancer Council in memory of their father Michael Renouf, who died from oesophageal cancer in mid-2013.
Ms Jarvis said her dad joined the Cockburn SES unit after moving from England in 2006.
"Dad served in the British navy for 10 years and the police force for 24 years so he was always someone who thought of others first," she said.
"Dad joined the Cockburn SES when he moved here, conducting training and being a coordinator.
"This is the second time we'll be doing the Run for a Reason with dad's SES unit."
Ms Renouf, from Martin, said it was a privilege to team up with the SES.
"It's so humbling to do this with a group of people that my dad had an impact on," she said.
Cockburn SES spokesperson Erica Honey said the run was a way to remember Mr Renouf.
"In the SES we spend a lot of time with our team mates and really get to know each other," she said.
Visit hbfrun2016.everydayhero.com/au/ses-cockburn-team-renouf.