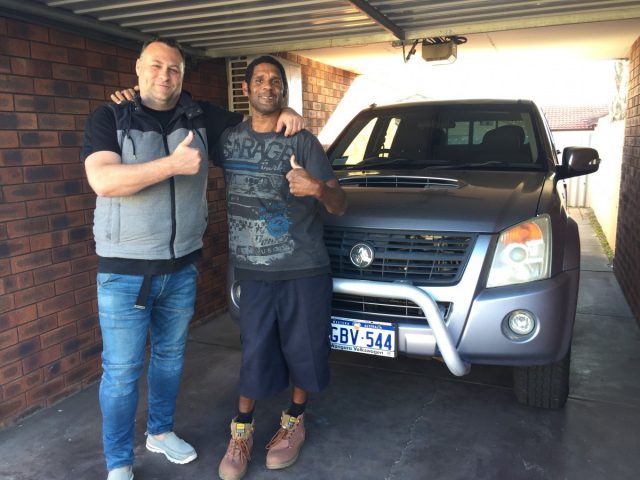 A Torres Strait Islander by descent, Gavin Calyun-Smith was fostered when he was only 16-months-old after he was found to be severely malnourished and diagnosed with Cerebral Palsy.
Mr Calyun-Smith was then offered up for adoption to his adopted parents Rose and Herrick Smith, receiving some early treatment between the ages of two to 10 years of age, mainly for the use of callipers to help strengthen and realign his legs.
Mr Calyun-Smith is now a 44-year-old man and said he doesn't need or want much as he lives a simple life and attributes all his good values to his parents.
He also has foster sisters named Jade and Natasha and had a foster brother named Brendan who sadly died in a motorcycle accident many years ago.
Although he has had his difficulties, the Cannington resident has not given up and he works part time cleaning pavements in the city with a high pressure cleaner as well as picking up used drug needles and faeces.
Mr Calyun-Smith used to ride his bike on a half hour journey to the city each day, leaving at 4am to get to work.
He carried his high pressure Karcher pack on his back.
However thanks to his foster sister, Natasha Miller and her partner Vince Zani, Mr Calyun-Smith no longer has to do this as he now owns a work ute that was bought thanks to crowdfunding.
Mr Zani said he had a soft spot for him on the very first day they met, which unfortunately was during Mr Calyun-Smith's foster father's funeral.
Ever since then, Mr Zani has been trying to help him in any way he can and is now crowdfunding for a mechanical therapeutic bed for his back.
"Gavin struggles to walk more than 20 metres at a time, his hands are also severely affected but still manages to do the simple tasks like using a knife and fork…but with difficulty," he said.
"His back is fairly deteriorated which creates some sciatica, his speech is also affected due to muscular deterioration, which are all normal symptoms of Cerebral Palsy.
"His sciatic nerve pain is increasing day by day with constant movement…he will eventually not be able to work physically anymore."
Apart from being a hard worker, Mr Calyun-Smith loves gardening, fishing and footy and said he would be happy to own his own business or a gardening round of some sort to help pay his mortgage and reduce the challenges he faces when working.
However, he is only allowed to work eight hours a week or it could affect his pension.
In the meantime, Mr Zani said he is committed to making Mr Calyun-Smith life a bit easier by crowdfunding and taking him to a footy game at the new stadium to watch the Eagles.
If you want to help Mr Calyun-Smith click on the following link Gav Needs a Ute.