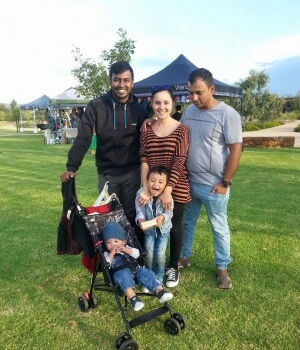 The Glades at Byford celebrated its 10th anniversary on March 18.
Despite the threat of rain and the dip in temperatures hundreds of residents flocked to Truman Parade to enjoy the celebrations.
The anniversary of the Glades was held in conjunction with The Glades Arts and Produce Markets.
Residents enjoyed strolling through the stalls, enjoyed free cupcakes, a sausage sizzle, live music, face painting and food trucks.
Many also enjoyed walking through the numerous display homes.
Kelmscott resident Gerard Joseph said it was amazing.
"I really enjoyed checking out the homes," he said.
"They were just amazing, I loved being able to wander through them and figure out which one I liked best."
His relatives Clarry and Aleisha Powell joined Mr Joseph.
Mr and Mrs Powell decided to take their two young sons to celebrate the 10th anniversary.
Mrs Powell said her brother worked in real estate.
"He told me about it so we thought we'd come down," she said.
"We all had a great time, the kids had fun, we checked out the stalls which had the Pokémon toys and we also checked out the lolly truck.
"I also had to line up with my son James so he could have Pokémon painted on him.
"All in all a pretty good day."
Mr Powell said there was a real community feel to the celebrations.
"We all had a really good time," he said.
"Nice atmosphere, good food and friendly people."