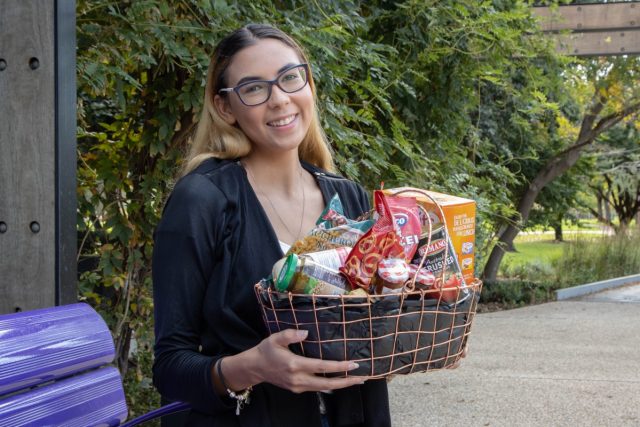 Just a week shy of her 19th birthday, Armadale resident Evelyn Samuels has founded her own not-for-profit organisation in a bid to help the community's most vulnerable. 
In the wake of the coronavirus (COVID-19) pandemic, and with the demand on emergency food relief increasing, Miss Samuels said there was no better time to establish 'Flourish Hampers' – a service dedicated to gathering food donations and delivering hampers to those in need. 
The full-time student has already begun approaching local businesses and food outlets to acquire regular donations in the hope of providing those in need with food hamper deliveries in the coming weeks. 
"I just wanted to do something for the local community, particularly now with the current situation," she said. 
"This crisis is exactly when this type of support can be incredibly vital, especially for those who are feeling the knock-on affect. 
"I'm endeavouring to help provide support to those in the local community who request it by allocating them food hampers. 
"But, to be able to do this, I would require assistance from other members of the local community that are able to. 
"It's something I have been thinking about for some time and I thought that there was no better time. Why wait?" 
Having once relied on emergency assistance herself, Miss Samuels said she had a deep understanding and appreciation of just how vital these services were. 
However, Miss Samuels said she had also noticed that they weren't always easily accessible – something she is determined to change. 
"We struggled for quite some time and I know what it's like to be reliant on these services," she said.
"What I have noticed is that there is limited access to some of these services, particularly when it comes to emergency food relief. 
"While these services are greatly appreciated, I think they should be more easily accessible. 
"This service will be all-inclusive – I want to be able to assist families struggling, those dealing with domestic violence, single income families, those on government benefits, seniors and pensioners." 
Once the service is up and running in the Armadale local government area, Miss Samuels said she wants to extend the service to Byford. 
Miss Samuels encouraged local businesses and those in a position to help to do so, stressing that there were hundreds of people locally that needed assistance. 
To access the service, or find out how you can help, search 'Flourish Hampers'.