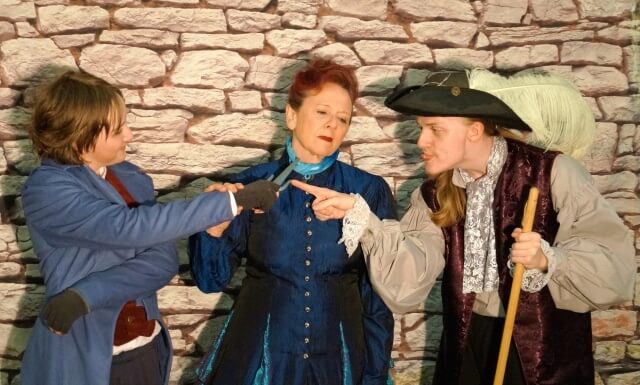 Darling Downs resident Callum Vinsen knows dragons do not exist but his appearance in an ARENAarts stage production of Terry Pratchett's popular Discworld novel Guards! Guards! may prove him otherwise.
Directed by Armadale resident Simon James at the Latvian Centre Theatre Belmont Guards! Guards! is a comedic adventure of dragons, dastardly plans, dire deeds and drama as a fiendish plot to take over the City of Ahnk-Morpork unfolds.
A dragon from the world of beyond is summoned to torch the city and terrorise the citizens into submission and the only folk to stand in the way is a decimated city watch made up of a drunk and cowardly petty thief and an earnest six-foot tall dwarf.
Mr Vinsen said he plays several characters including Footnote, The Librarian, voice of Death and a dragon.
"Footnote is sort of narrator relaying choice moments of information to the audience," he said.
"The Librarian is a 300-pound orangutan that works in a magical university library and whatever you do, don't call him a monkey.
"Death is the grim reaper, an eight-foot tall puppet that is cumbersome to move although I'm only doing the voice for him in this show."
Mr Vinsen said opportunities like Guards! Guards! did not come around often.
"As soon as the director said he was going to do the show I was there in a flash," he said.
"Initially, I was only interested in the Librarian, all the other roles I've got just magically popped up afterwards."
Director Simon James said Guards! Guards! was a fun play of quirky characters, odd villains and lovable puppets.
"It's a comedy and an adventure at heart," he said.
"We have a cast of 18 playing more than 35 roles.
"Creating characters that live off the page and become alive on stage as real characters is the challenge to tackle and overcome.
"Each new character needs to not only look different but walk and talk in various ways so we've had workshops on the physicality of individual roles and voice characterisation."
Guards! Guards! Will play at 8pm on October 28 and 29 and November 3, 4 and 5 with 2pm matinees on October 30 and November 6.
Tickets are $22, $16 concession and $10 children for under children under 16.
To book call 9399 9947, email arenaarts@hotmail.com.au or visit trybooking.com/LUCB.