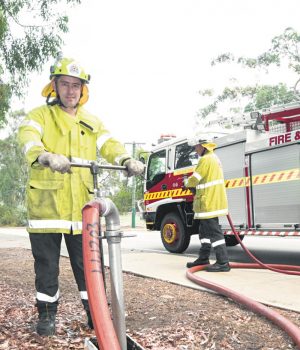 Roleystone firefighters are calling on drivers to avoid parking in front of fire hydrants to ensure emergency services can battle fires wherever they start.
On March 21 Roleystone Volunteer Fire Brigade recently posted a request on its Facebook page for residents to remain vigilant with their parking behaviour after they spotted a car parked in front of a roadside hydrant.
Legally fire hydrants must be kept clear at all times, and in the City of Armadale fines up to $70 can be handed out for parking within a metre of one.
However, the page warned of other serious potential repercussions of obstructing a hydrant.
"Our fire appliances can only carry so much water," it said.
"When we attend a fire or hazard reduction burn it is imperative that we have quick and easy access to a water point like a fire hydrant.
"If a fire hydrant is obstructed, we can't use it [and] this may delay our response when lives and property are at risk."
The warning came as the Department of Fire and Emergency Services began letter-dropping its latest newsletter, which included warnings about parking near hydrants.
In it DFES asked for lawn and landscaping to be kept tidy around hydrants and hydrant markings, and for clear access from roads to be maintained.
Roleystone Volunteer Fire Brigade captain Aaron Kain said the organisation was just asking for common sense.
"Firstly it's against the law, and secondly the main reason is so that in an emergency the fire service can access the hydrant," he said.
He said there were identifying marks that drivers should keep a look out for to ensure they can legally park on a verge.
"Usually they're delineated by a white H written on the middle of the road, or near the curb," he said.
"In some cases there'll be a blue cat's eye in the middle of the road."
Mr Kain said the hydrants were usually in a regularly painted metal or plastic box that should be clear to see.