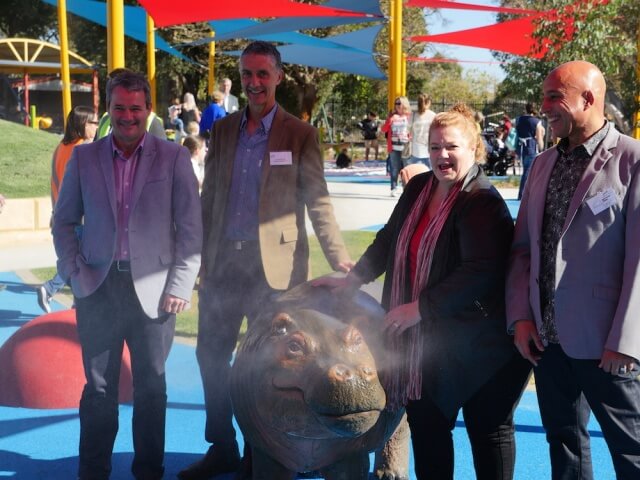 A new playground, which stimulates all five senses for students with disability, has been welcomed at Kenwick School.
Education Minister Sue Ellery officially opened the Play-for-All playground on June 17.
The opening was an opportunity for the school and wider community to celebrate the completion of the playground in a community fair like atmosphere, with a food van, sausage sizzle and face painting.
It gave students, their siblings, family members and friends a chance to play together with equipment specifically designed for inclusivity and the promotion of interaction.
Kenwick School principal Mark Watson said the playground had transformed the lives and shaped the physical and sensory programs of students in ways that he could not have imagined.
"Connection is at the core," he said.
Parent and president of the P&C Mel Kennelly said the new playground was all about inclusivity.
"It gives my child the movement that she would otherwise not have," she said.
"She can also interact with the more able kids on the inclusive orbit and sway fun."
The Play-for-All playground is the culmination of the community's long held desire to ensure that students have access to a state-of-the art, inclusive playground.
It is specifically designed to challenge all students and facilitate the development of their physical skills and encourage sensory exploration required for their healthy growth and development.
The playground promotes motor planning and social imaginative play which develops a number of senses including auditory, visual, vestibular, tactile, taste and smell and proprioception.
Kenwick School teacher Poonam Parwani said seeing every single child enjoying and interacting with the equipment and each other was amazing.
"It provides a natural opportunity for students to learn social skills such turn-taking and waiting in a vibrant and enticing environment," she said.
Kenwick School student, Alex said the school playground was perfect.
"I really enjoy the Wee-Saw," he said.
"I like that I can bounce up and down with my friends."
Kenwick School has more than 70 students aged four to 18 who have severe and profound intellectual and other disability.
Education and Training Minister Sue Ellery said the benefits of engaging the senses and using motor skills were immeasurable for students with disability.
"The benefits range from increased confidence to improved social skills and enhanced co-ordination," she said.
"Kenwick School's specialist facilities and teaching make a world of difference to students with disability."