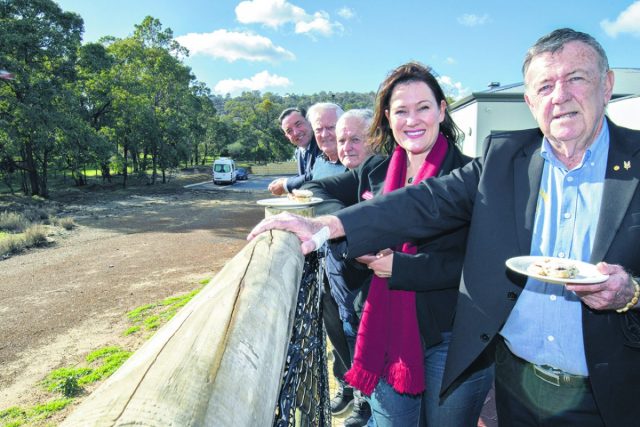 A new home for the Serpentine Jarrahdale RSL sub branch is one step closer thanks to a sizeable State Government donation.
Minister for Veterans Issues Peter Tinley joined members of the RSL sub branch last week to announce a $10,000 commitment to the planning of the branch's new headquarters.
The sub branch has planned to use an unused area within the boundary of the Byford and Districts Country Club as its new base replacing its existing home at the op shop in South Western Highway, Byford.
Sub branch president Rick Giblett said the organisation had waited for years to find the perfect home for the RSL within the shire.
"This funding will help us with stage one of the development with the building providing a multi-million dollar upgrade to the existing facilities," he said.
"We also hope to have a memorial park built on the grounds so that come Anzac Day it will be a day at the club."
Mr Giblett said the sub branch had initially looked to build a double-storey addition separate to the main building that would include a private bar, plenty of space to display memorabilia and a function room, which could be used to generate income for the RSL.
Mr Tinley recognised that the construction costs would cost far more than the $10,000 commitment but said it was a good start to help with the plans and design of the new building.
"In talks with Rick we could see there was an ambition to extend the Byford and Districts Country Club and make a special home for the Serpentine Jarrahdale RSL sub branch," he said.
"We wanted to do something as a token to make a contribution to the start of this project."