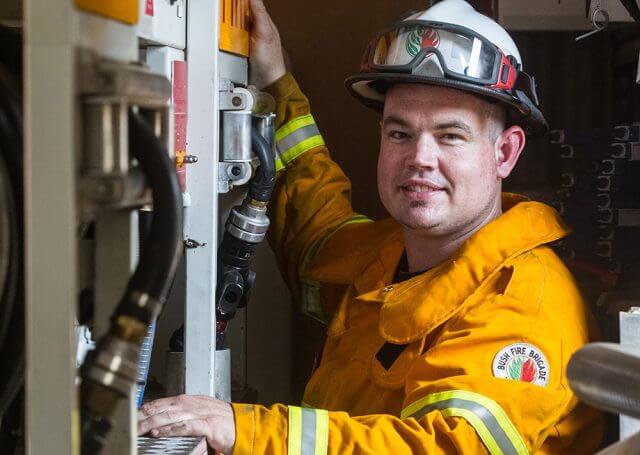 Western Australians have heard a lot about volunteers in the last few weeks as fires have raged across the city and the state. Editor Robyn Molloy catches up with a volunteer on the anniversary of the Kelmscott Roleystone bushfires and finds out what made him join up and why he was more nervous about joining than most.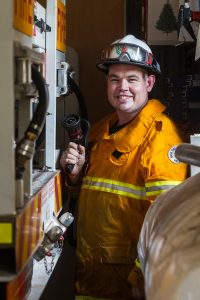 Bedfordale volunteer bushfire station appeared quiet on Friday afternoon, the anniversary of when the Kelmscott Roleystone bushfire wiped out more than 70 homes on February 6, 2011.
But with bushfires raging in Cockburn, Boddington and Northcliffe and an eerie haze across the skyline it just means they are not in Bedfordale's immediate area.
Every volunteer at Bedfordale brings something special to the team.
Damon Barrett oozes enthusiasm as he shows me about the station.
He has been a volunteer for about eight months and cannot speak more highly of the team and enjoyment he gets from giving back to the community.
He amazes me almost immediately because all I know about him apart from him being a volunteer is that he is deaf, yet when I start chatting to him he understands what I am saying.
I don't notice a hearing aid so assume he can lip read, something he confirms later.
During the interview we do manage to confuse each other but only occasionally – anyone who says they are a hyperbaric technician will have to explain and spell it out.
Damon, who was born deaf, had always wanted to be a volunteer fireman but didn't want to put anyone else in danger due to his hearing loss.
He has proven he can do the job as well as the rest.
The 32-year-old from Piara Waters has been buoyed by the teamwork of Bedfordale brigade, who have not faltered in their support for him.
He is equipped with a vibrating pager as one means of communication.
"If the captain needs my attention he presses a button," he said.
He demonstrates the pager and to me it's loud.
"It vibrates but I can't hear it," he said.
He explained there are many other ways to communicate with him.
"I have good eyesight, there is nothing wrong with that," he said.
"People can wave, if I have the hose they can pull the hose to get my attention.
"At first I was nervous, I didn't want to put anyone at risk."
Damon did not realise how much work there was involved in a bushfire until he joined the brigade.
"Before I just thought they did the job and went home, but they have to go back and do the mop up," he said.
Damon makes it quite clear he is just like everybody else, except he is not quite like everybody else as something stands out in his life as remarkable.
"Deaf people can do anything, you don't have to be afraid. We won't bite."
On September 5, 2001 he risked his life to save others when he came upon a head-on accident in Leschenault where the driver was trapped and not breathing and there was risk of explosion because of leaking fuel.
"I quickly helped two people out of the car as they were conscious and I went to the driver as he was unconscious," he said.
"I saved the driver's life as he was not breathing, I lifted his chin up and got him breathing. Most onlookers didn't make a move because of the risk of fire or explosion from the vehicle."
He also helped direct traffic and watched as the driver was cut from the wreckage. The driver survived but lost both his legs.
"It was a surreal experience," he said.
For his efforts he won a bravery award from Royal Life Saving that year.
Several months later he came upon another accident where, along with others, he stopped to help two young people trapped in a car, but both died as a result of their injuries.
"It was very sad to hear," he said.
"That's the reason I have always wanted to join the police, ambulance or fire brigade, because I wanted to help people and the community but I have been declined due of my hearing loss.
"It has been too long, but I have finally been able to join the Bedfordale bushfire team after the captain Michael Hall encouraged me to join."
He encourages other people to join the Bedfordale brigade.
"I feel more of a team member and more a part of my community than ever," he said.
Damon's father lieutenant Darrell Barrett has been with the Bedfordale brigade for four years.
Likewise, Damon's three-year-old daughter Evangalene gets a thrill out of visiting the station.
Damon is married to Amie, an interpreter, and also has a son Cillan, 1, who will also no doubt want to continue the family footsteps into the brigade.
He also has a deaf dog called Gray.
Aged 11 he learnt a new language – Auslan – which is the sign language of the Australian deaf community.
He has one final message: "Deaf people can do anything, you don't have to be afraid. We won't bite."
Hundreds of hours
• Bedfordale volunteers have been to Boddington, Northcliffe, Wandering, Flint, Lower Hotham and Mandogalup in the last few weeks.
• From February 1 to 9 they have volunteered for more than 800 hours on the ground.
• WA has more than 22,000 volunteer bushfire brigade members.
• There are more than 570 bushfire brigades.