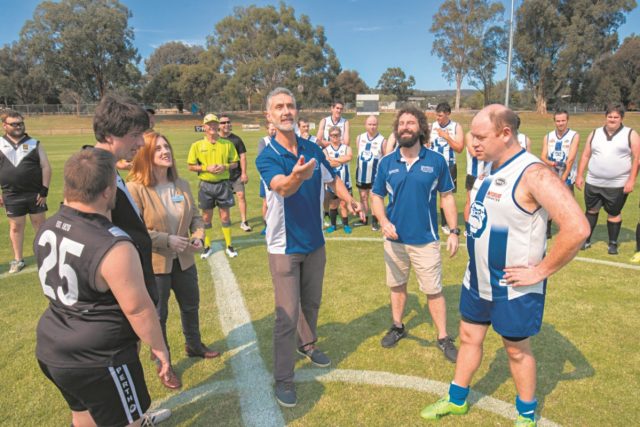 A strong crowd headed to John Dunn Memorial Park for the inaugural Integrated – All-Abilities football game on Saturday, April 17.
Armadale MLA and Minister of Sport and Recreation Tony Buti came down and tossed the coin to start the season.
City of Armadale mayor Ruth Butterfield and councillor Gary Smith were also thrilled to be in attendance.
Perth Football League president Sam Birmingham, general manager David Armstrong, director Danielle Cattalino, and WAFC representative Tom Bottrel joined the big crowd in supporting the clubs.
Kelmscott FC thanked the City of Armadale for its preparation of the complex, along with the PFL, the local community, and Kelmscott All-Abilities coach Robbie Turner.
Although Kelmscott was not victorious, it paled in comparison to the sheer joy shown by all of the players.
Peter Gaitskell and Jarred Staines kicked the first goals for the team.
Peter and Jarred where backed up by teammates David Dennis, Kacey Hall, Lyndon Snooks, Justin Storen, and Larry Tadday.
Wembley, however, showed its years of experience in the competition, and kicked away to record a 9.12 (66) to 3.3 (21) win.
Kelmscott FC's All-Abilities team trains on Thursdays from 6pm at John Dunn Memorial Park, and is still looking for new players.
The club's league side launched its season campaign with a devastating 5.8 (38) t0 18.14 (122) loss to reigning premiers Queens Park.
Full forward Max Websdale kicked three of Kelmscott's five goals for the game.
Kelmscott's reserves side, on the other hand, cruised to a hard-fought 9.10 (64) to 9.7 (61) victory over Queens Park.
Mal Yarran booted five majors, ahead of teammates Daniel Iannello, Michael Anderson, Beau Mcgowan, and Billy Hansen (one goal each).
Round two was called off due to the region's three-day snap lockdown, over the ANZAC Day long weekend.