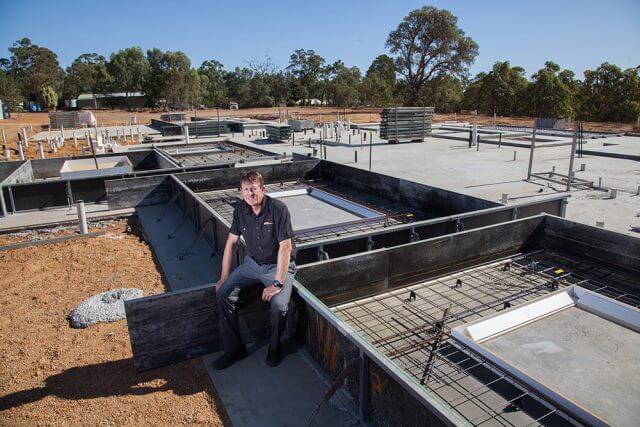 Construction of the new Byford and Districts Country Club is powering ahead according to Alita Constructions director Alastair Kleyn.
Alita Constructions, which is based in Forresdale, was awarded the tender to build the facility at the site between Linton Street North and South Western Highway, Byford in December last year.
Mr Kleyn said despite a challenging start the build was on track.
"It was challenging because the tender had to be done over Christmas and trying to get all the trades organised over Christmas was a nightmare but we achieved it," he said.
"We're at the point now that sewerage is done, the stormwater has been put in and the concrete floors have been laid.
"Now we're making the concrete tilt panel walls.
"For us it's a medium size build but it's a very quick type of construction.'"
Mr Kleyn said it was exciting to see the new country club come together given the impact it would have on the community.
"It's going to be a great function centre, of course it's state-of-the-art and it's awesome to see because it means progress for Byford and the Shire of Serpentine Jarrahdale," he said.
Mr Kleyn said 80 per cent of Alita Constructions' employees for this job were from the area.
"Which is great as we strongly believe that we should keep work for local people so that the money stays in our own community," he said.
Construction was expected to be completed by the middle of this year.
The old club will be demolished to make way for a Farmer Jack's supermarket.