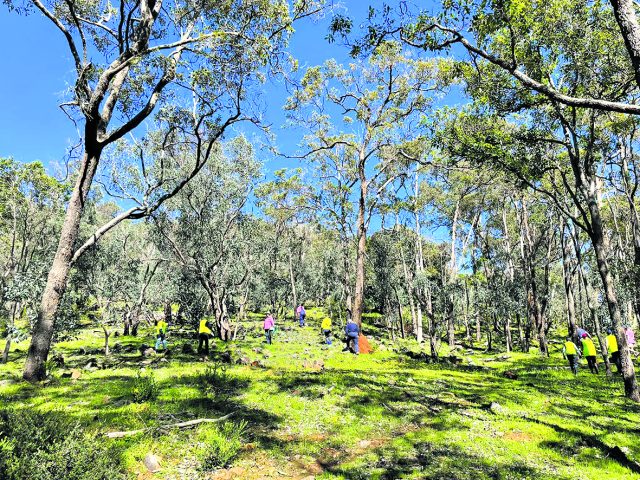 Serpentine National Park was a hub of activity on Tuesday, when volunteers joined the Peel Harvey Biosecurity Group (PHBG) to rid the park of invasive cotton bush as part of their annual series of busy bees.
An early morning start saw 14 volunteers get their hands dirty, pulling weeds for an hour before settling in to rest in the sunshine with a group morning tea.
PHBG's Teele Hooper-Worrell said cotton bush, left undeterred, can lead to a host of environmental issues.
"It is an established agricultural pest that can also infiltrate undisturbed bushland," Ms Hooper-Worrell said.
"It can form thick infestations that take over productive land, impact on stock health and provides shelter to feral animals such as foxes and feral pigs.
"The PHBG busy bees are part of a three-year, State Natural Resource Management Project 'Controlling cotton bush in the Serpentine National Park'.
"The busy bees provide support to the project by physically removing cotton bush from areas where spraying is difficult.
"The events have strengthened the relationship between Park rangers and the local Serpentine Enviro Group who now regularly meet in the park as part of their weekly environmental volunteering."
A not-for-profit, recognised biosecurity group, the PHBG aims to reduce the negative impact of declared pests on landholders.
Moving into summer, Ms Hooper-Worrell says enquiries about feral rabbits and pigs are likely to increase.
"It only takes a few rabbits to impact properties from over grazing of lawns and pasture, and garden damage to warren digging under structures like stables and houses," she said.
"Feral pigs damage is more noticeable over summer as water sources diminish and pigs congregate in areas where water and food are available.
"The PHBG have developed programs to assist landholders with the control of both rabbits and feral pigs, as well as a range of other priority pests."
For more information on best practise declared pest control visit wephbg.org.