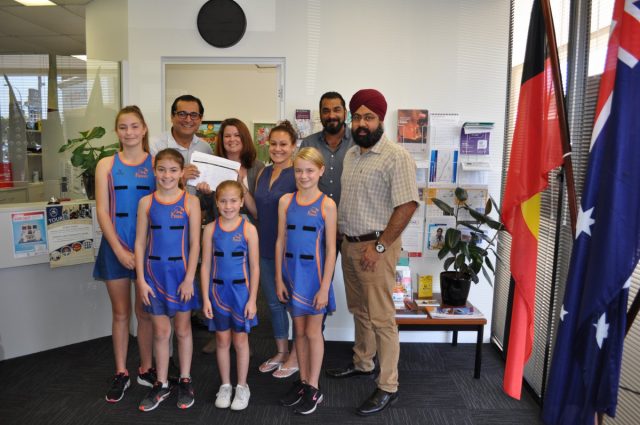 Members of a local netball club have knocked on doors and rallied the community to support them in the hopes of bringing more recreational facilities to Piara Waters and Harrisdale. 
Piara Waters Netball Club currently does not have a local base for training or development, which has forced members and their families to travel to Southern Districts Netball Association in Langford for training and games every week. 
Realising this is no longer a suitable solution for the club's nine teams and 100 members, the club took to the streets to gather as many signatures as they could for a petition, which Member for Jandakot Yaz Mubarakai will now send to the City of Armadale for consideration. 
Secretary Danielle Lumbus said the club initially thought the soon-to-be-built netball courts at Harrisdale High School would be suitable however the club can not afford the hire cost of more than $3400 for its 18-week winter season. 
Ms Lumbus said the well appointed Rossiter's Pavilion and Harrisdale Pavilion would also be ideal however they are only set up for sporting codes such as AFL, rugby and cricket. 
"To create a minimum of four new multi-use courts it would require a minimum 2500-square metres and both of the facilities appear to have free space of that size currently being underutilised," she said.
"Consideration needs to be given to improving these existing facilities." 
Ms Lumbus said the 842 signatures collected clearly reflects that the community supports the club's call for not only netball courts but also other recreational areas to be created and delivered in the area. 
"There is a lack of amenities and areas for youth community engagement and safe social settings within both Piara Waters and Harrisdale," she said. 
"This can be improved by providing facilities that are multipurpose and flexible spaces for example netball, basketball and tennis as well as informal social interactions. 
"By incorporating multi-use court facilities within these existing hubs it will help encourage community activities that creates a greater opportunity for people from all walks of life and backgrounds to meet and share and enjoy sport together." 
Member for Jandakot Yaz Mubarakai said it is important that both state and local government work together to ensure communities have proper recreational facilities like every other suburb. 
"I would like to see a portion of undeveloped land in Harrisdale and Piara Waters sanctioned for a centralised community recreation centre with adequate indoor and outdoor facilities to alleviate the current pressures they are experiencing," he said.