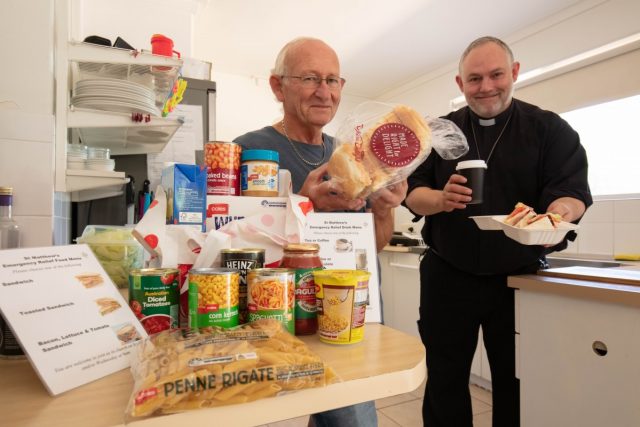 The local Anglican parish has launched a fundraising campaign for emergency food supplies as it braces for an influx of people going hungry in the wake of the coronavirus (COVID-19) pandemic.
St Matthew's Anglican Church Priest-in-charge Reverend Jeff Astfalck said the parish had bunkered down with dedicated volunteers serving food from the rear of the café outside, but demand was exceeding its ability to supply.
Reverend Astfalck said the church anticipated it would need up to $40,000 to provide the emergency food service this year, more than double the amount it cost to run the program last year.
With thousands left without work, Reverend Astfalck said he had seen a difference in the number of people sourcing assistance from the church, but described it as the "calm before the storm".
"It's changing," he said.
"We're seeing people we haven't seen before.
"We're being found by people who have heard about our services, many of which are casual workers that have found themselves without work or who have lost a portion of their income.
"The rate of need is escalating and, even with the grant funding, we will run out of food as the demand increases.
"People are not yet destitute on the streets – we haven't seen the massive influx yet, but it's coming.
"The storm is coming, but this is not the storm. This is the calm before the storm."
The church has received grant funding from the Anglican Diocese that has been provided by Lotterywest and Anglicare, but without adequate funding Reverend Astfalck said the church café would be forced to close.
So far, the campaign has seen more than $700 raised.
The church desperately requires food donations within date and cash to continue delivering the service.
To donate, visit gofundme.com and search 'Emergency Food for the People of Armadale'.