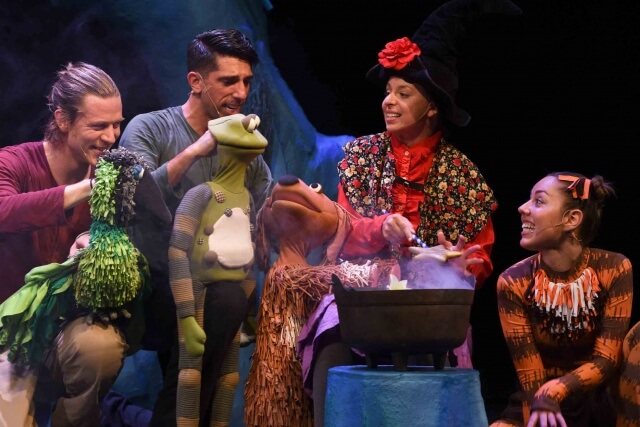 With the summer school holidays almost at an end families still have plenty of time to indulge in some performing culture at the State Theatre in the city for a live production of a popular illustrated children's book.
Room on the Broom by Julia Donaldson and Axel Scheffler will literally jump off the pages and land on stage as the story's accident-prone witch and her cat fly happily on their broomsticks.
But when a wind blows away the witch's hat, bow and wand a helpful dog, bird and frog find the items and they hop on the broom for a ride.
But the broomstick snaps in two and when a hungry dragon appears, there is trouble ahead.
Room on the Broom will feature a kaleidoscope of colour, music and humour amongst lively, animated puppetry handled by a refreshing cast of actors who simply enjoy making people, in particular children, laugh and engage.
WAAPA graduate Andreas Lohmeyer, 27, plays a number of characters including a narrator, the bird and the 'scary' dragon and said the captivating production will thrill children as much as adults.
"A big focus of our adaptation is to keep the parents entertained as well so we wanted to make it engaging for everyone despite how young our target audience is," he said.
"It's crazy to expect to put on a show for kids of this age (three to eight) and have them sit in silence so it's great Room on the Broom allows them to not be inhibited and they can stand and point or laugh and sing.
"We learn so quickly in life to be polite and I believe engagement with theatre, music and the arts shouldn't be like that."
Mr Lohmeyer had some fast-paced puppetry training before the show began its tour this month and said it was a challenge to learn the skill but extremely enjoyable.
"We put a lot of effort into the physical gestures and attention to detail you need to just keep the puppets animated," he said.
"In every moment there is presence and energy in the body of the 'characters' and it's so easy to make an inanimate object look lifeless and dead so effort is crucial to making sure our 'characters' are real."
This beautifully produced stage show of Room on the Broom will play at the Heath Ledger Theatre, State Theatre Centre from January 27 to 31.
It is suitable for children aged three to eight as well as adults.
To book tickets visit ticketek.com.au or call 1300 795 012.