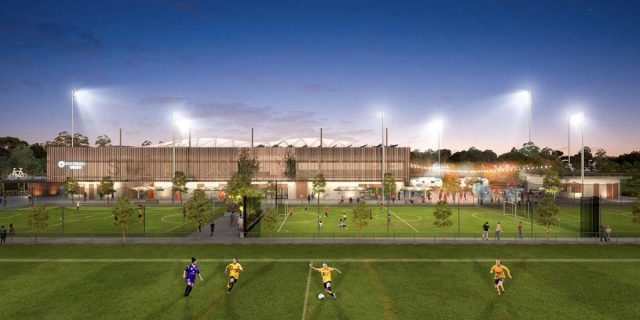 The State Football Centre project will breathe new life into Queens Park and into Perth's south-east, according to the WA Government.
On Friday, it was announced that Perth will be one of the five host cities for the 2023 FIFA Women's World Cup.
Held across Australia and New Zealand, the tournament will see the Matildas go up against some of the world's best teams.
Organisers are expecting it to be the biggest FIFA Women's World Cup in history, with 32 teams already confirmed.
All games in Perth will be held at HBF Park, located in East Perth.
"Hosting this global tournament in Perth will do wonders for the future of women's football," Sport and Recreation Minister Dr Tony Buti said.
"This is further proof that we are competitive at the highest level in securing sporting events for the benefit of WA.
"The tournament will provide a unique opportunity to develop women's football in Western Australia.
"It will provide an incredible boost to the game at all levels, from grassroots to the professional leagues."
The State Football Centre's construction phase is scheduled for completion prior to the tournament.
Once complete, the centre will be utilised by a number of international teams for training purposes.
Based in Queens Park, the facility will include a grandstand, two competition and training pitches, three five-a-side pitches, and on-site parking.
After many years of community consultation, the WA Planning Commission recently approved the project's development application.
The Department of Local Government, Sport, and Cultural Industries will appoint a civil contractor to begin the site preparation and forward works, within the next few weeks.
The state government has allocated $16.25 million to the project, designed to boost Australian soccer's profile on the world stage.
Football West chief executive James Curtis praised the state government for signing off on the project.
"The WA Government has invested tens of millions of dollars into community football infrastructure to be delivered in time for 2023, including the State Football Centre," he said.
"This is one of the biggest sporting events in the world, and it will showcase the city of Perth like nothing else."
Further scheduling details, regarding games and training sessions, are due to be confirmed within the coming months.
"The state-of-the-art State Football Centre will be an ideal training venue for the Women's World Cup," a City of Canning spokesperson said.
"The city is focused on supporting and building the capacity of sport and recreation in our community, and the venue will be the new home of Football West.
"The development of the State Football Centre is a significant project for the local neighbourhood.
"It will improve access to the Queens Park Open Space, strengthen local community activity, and help shape a new story for Queens Park."