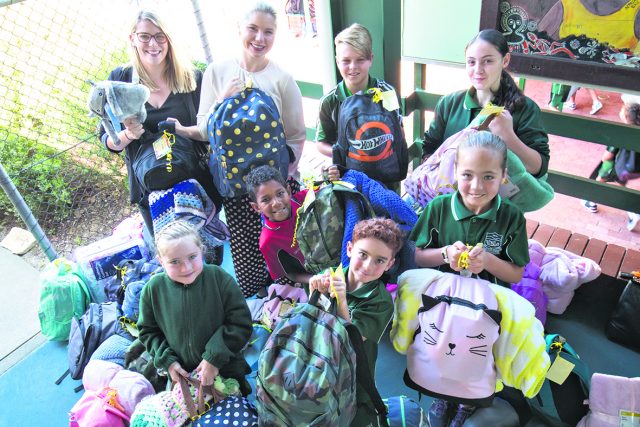 A school backpack, pyjamas, colouring in pencils, a small toy and a blanket will soon fall into the hands of children in care thanks to a group of thoughtful students at a local primary school.
Staff and students at Clifton Hills Primary School recently took part in a backpack drive, which saw numerous donations come flooding in for children aged four to 12 years who will enter out of home care.
Completed as part of the school's R U OK Day activities, classroom teacher and KidsMatter coordinator Naomi Bell said she was overwhelmed at just how many donations the school had received for the not-for-profit charity Parkerville Children and Youth Care.
"We were anticipating that we would complete about 20 backpacks but we have been thrilled that our school community has worked together to complete 39 backpacks, as well as having enough for a large hamper of additional items," she said.
"The generosity of our community was heart warming and the donations included many items including beautiful handmade blankets and essential personal hygiene products."
Ms Bell said the school had previously helped out with food collection drives at Christmas time and gathered school supplies for orphanages in Africa, but this was the first time they had paired up with Parkerville Children and Youth Care for a backpack drive.
Acting chief executive and Out of Home Care director Jo Collins said the experience helped the students to understand that others in the community were not always as fortunate as they may be.
"Parkerville Children and Youth Care provides over 130 placements for vulnerable children who have been removed because of abuse and harm and each child will receive a backpack like this with personal items to assist them with their transition to care," she said.
"They provide comfort and security during a time when a child can feel quite alone."
Ms Collins said many of the children who have received the backpacks in the past had remarked on how helpful and appreciated they were on their first night away.