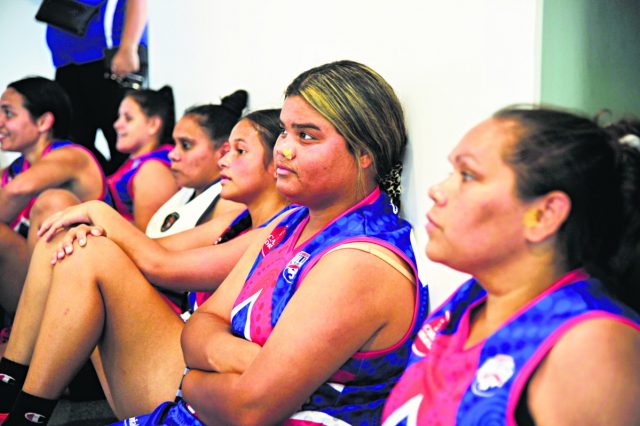 Two weeks ago, Queens Park Bulldogs captain Justyne Eades was looking forward to the 2022 football season.
Queens Park had done the hard yards, having just fallen short of making the 2021 grand final, putting in a solid pre-season, and Eades was confident this year would be the Bulldogs' year.
Now that dream has turned into a nightmare, with the Metro Football League folding and the Perth Football League refusing to let Eades play the game she loves with the club she helped build.
"For myself and a lot of the other girls it was just really disheartening, we'd put a lot of work in during the pre-season, trying to improve on last season, we trained a lot with the men so there was an overwhelming sense of being really disheartened and down about the situation and wondering where that left us in terms of playing football this season," she said.
President Ross White said that an offer to use Queens Park and Koongamia players as top-up players for other clubs was culturally, ethically and morally wrong.
"The two teams have a unique sense of culture and community," he said in a statement.
"Both clubs have a large indigenous engagement which is built around family and implementing appropriate cultural protocols into our grass roots football."
Eades puts it in simple terms.
"What we built here is more than just football," she said.
"I understand the PFL season has already started, I get that, but for us it was just, we've built something really special at the Queens Park Football Club, and we have quite a good social aspect in terms of showing up to football training two times a week and playing football together on a Sunday.
"I know for me; my partner has played at the club for a number of years.
"I'm a mum of three kids, I was a full-time uni student and I worked as well and what little time I had left it was really important for me to find a club that I really enjoyed showing up to.
"We don't want to disband and we don't want to go to other clubs.
"It's hard for me and my sister, we put a lot of effort into building the team, we came from other clubs and we were convinced to come over and get the team going and it was hard at times but we got there.
"We don't know what's happening, other than the original 'no' we got we don't know what we can do.
"Today's a training day for us, we don't know if there's any point or if we're ever going to have a game together again."
Despite not having a league to play in, Queens Park Bulldogs faced off against Koongamia last Sunday in what could be the last time.
It was a win for Queens Park, a win that brought with it an inevitable uncertainty about the future for 50 women from both teams who just want to play football together, within the teams they love, with the clubs they feel safe in.