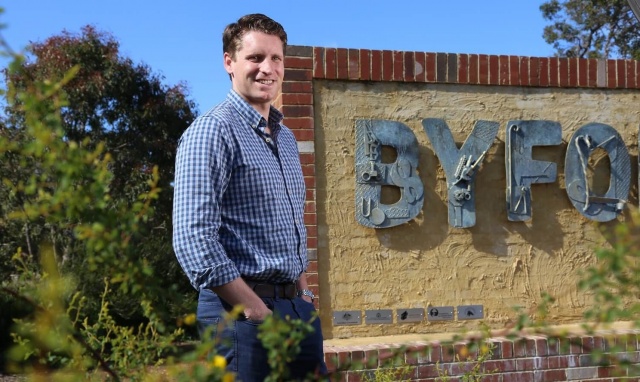 Governments have forgotten outer-metro areas and major infrastructure projects in Serpentine Jarrahadale, like the Byford train line, should be high priorities according to Member for Canning Andrew Hastie.
Speaking on the anniversary of his election at last year's Canning by-election Mr Hastie said he had learnt a lot but one of the biggest issues constituents kept bringing up with him was a lack of infrastructure.
He said at the July election there was a large swing against the Coalition in Byford, which he put down to outer metro areas missing out.
"…that's why I publicly shared the view of many constituents when I said the outer-metro regional areas like SJ have been forgotten in many ways," he said.
"It's my role now to fight for those areas and the issues that people keep bringing to me are infrastructure, whether that's public transport like trains or roads like the extension of the Tonkin highway south, or telecommunications like NBN and mobile phone black spots.
"This is bread and butter for government.
"This is the stuff we need to get sorted and quickly."
He said he had spoken to State Treasurer Mike Nahan about the importance of the Armadale train line extension and he was 'very receptive' to the idea.
"(Last month) I had a conversation with the State Treasurer Mike Nahan, and I said to him, 'you've got to look after the forgotten people of Byford and the way you can start doing that is to get a train station in Byford and to build it quickly'," he said.
"Mike Nahan is very receptive to a train station in Byford and he's thinking about ways that could be financed.
"In the lead up to the state election I'll be lobbying the State Government to deliver on that because it's unacceptable that people in Byford have to drive to Armadale to get the train.
"It's about time one of the fastest local government areas in the country had its own train station."
Lessons learnt
Mr Hastie said one of the biggest insights he had into effective government was when people worked together.
"My key insight is that politics is incremental, change happens only when people work together," he said.
"It happens when local, state and federal governments work together and it happens when community groups come together around a common vision.
"It's really incumbent upon politicians to lead the community as a whole, not just special interest groups or individuals.
"The Peel Youth Medical Service funding is a perfect example.
"That only happened because state MPs (Liberal and Labor), local government and community leaders, all came together to say, 'this is what we want'."
Tax reform on the agenda
Mr Hastie has some big plans for the rest of his political career including helping develop defence policies and contributing to tax reform.
"I'm a fan of income splitting as a potential tax policy," he said.
"We allow people to split capital but we don't actually allow people to split income.
"There are a lot of parents that stay home to raise a family and I know first-hand how challenging it can be for mums to raise their kids; there's a lot of imputed labour that goes unacknowledged into raising children.
"Income splitting for single income families would mean they could reduce their overall tax burden and keep a bit more money in their pockets.
"It's something I find very compelling and even though it's not on the government's agenda it's a conversation I'd like to have with colleagues and people in the community."