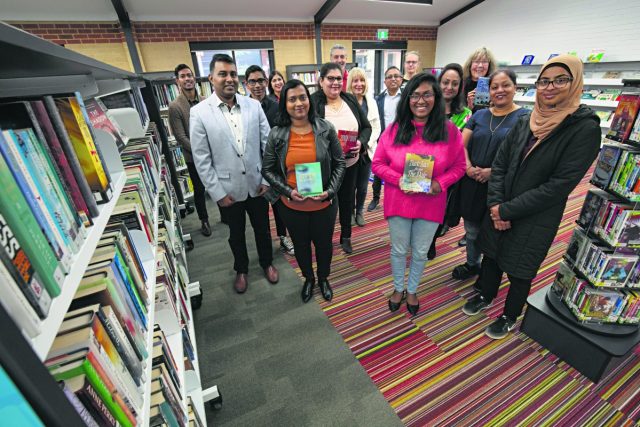 A new multicultural writers group, which aims to add spice to the already diverse literary landscape, has hosted its official launch at its new home in the Seville Grove Library.
Manifold Writers Inc was founded earlier this year by avid writer and local resident Pasan Ganegama, who said he recognised that there were few places budding writers could go to enhance their skills in their preferred language.
The group, which has received support from the Armadale Writers Group and the City of Armadale, focuses on writing, grammar, punctuation and proofreading and begun with just four members back in February.
Despite having begun just weeks before the implementation of social distancing measures, Mr Ganegama said the group had continued to meet virtually and had attracted interest from more than 50 writers.
"I realised that there were so many budding writers in our community from all over the globe, but that there was no forum for them," he said.
"This group provides an opportunity for them to express themselves in the language they are most comfortable with and provides a safe and secure environment for them to do that and feel supported.
"This gives them a chance to refine their skills, too – in their preferred language or in English."
Mr Ganegama said he had always enjoyed writing, but that it became more of an outlet than a hobby in 2005 after his life was turned upside down in the Boxing Day tsunami.
The Sri Lankan national was on his way to class when he received a phone call from his mother telling him not to return to his oceanside home in Matara.
Instead he ran back to his family home, arriving to find that much like countless other families affected by the natural disaster, Mr Ganegama and his relatives had lost everything.
With no trauma counselling offered to those affected by the tsunami in Sri Lanka, Mr Ganegama put pen to paper and began documenting the recovery process and the emotions that come with having witnessed the trail of destruction left by the tsunami.
"I wrote before, but after that I began writing with passion," he said.
"It really became an outlet for me and I found it therapeutic."
After losing everything, Mr Ganegama was determined to start fresh in Australia, moving to Perth in 2015.
Now, he plans to share his love of writing with other passionate writers of all backgrounds and aims to publish an anthology next year to showcase the group's best works.
For more information, or to join, contact manifoldwriterswa@gmail.com