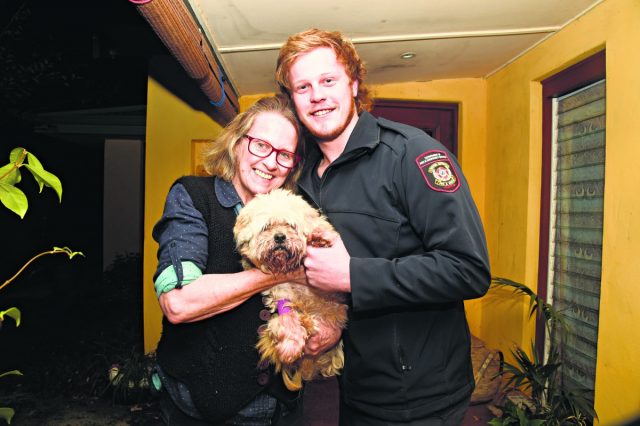 Volunteers at a local fire brigade came to the aid of a woman and an elderly dog this week after they found themselves in a sticky situation. 
Short of hearing and with deteriorating eyesight, Bubbles, a 15-year-old Lhasa Apso, had been missing since about 8.30pm on Friday. 
After appealing to the public for information and searching high and low for Bubbles all weekend with no luck, owner and Roleystone resident Alison Ashton went searching on a hunch that she could be near the Contour channel – a 1.5 metre deep concrete channel that was previously used to transport water from the Canning Dam. 
About two hours into her walk Ms Ashton found Bubbles alive and well, but she, too, became stuck when she slid down into the channel to try and retrieve the pooch. 
"I yelled out and I think she just heard me," Ms Ashton said.
"I threw my bag down next to her but I don't think she really saw me or knew it was me until I was right there with her." 
Realising she then couldn't get out of the channel, Ms Ashton called the City of Armadale ranger service, which then contacted the Roleystone Volunteer Fire Brigade to help her out of her predicament. 
The brigade sent two trucks and eight volunteers to Ms Ashton's rescue on Monday morning. 
Captain Aaron Kain said the brigade attends all types of incident 24 hours a day, 365 days a year so nothing surprises them now. 
"As the countryside was very, very steep Alison and Bubbles were unable to get out of the channel and up the steep embankment, they both just needed an extra set of hands to get them out safely," he said. 
Ms Ashton said she was eternally grateful for the help from not only the brigade but also the wider community during what was a very heart-wrenching weekend. 
"The Roleystone community are fabulously supportive," she said. 
"People were so encouraging and supportive and gave us some sound advice when we were searching for Bubbles."