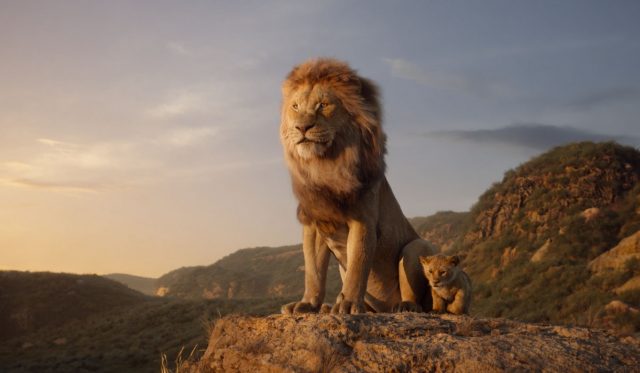 One of the most anticipated live-to-action Disney films, The Lion King, has finally made its way to Australian shores, and families are in for a treat when they head to the cinema from next week.
Director Jon Favreau (The Jungle Book, Iron Man, Elf) takes the classic story to the big screen in a whole new way as he blends live-action filmmaking techniques with photoreal computer generated imagery that has taken virtual reality to a new level.
The story is the same as the 1994 animated original. In the African savanna, future king Simba (JD McCrary and Donald Glover) is born to Mufasa (James Earl Jones) and Sarabi (Alfre Woodard), but not everyone celebrates his arrival. Mufasa's brother and former heir to the throne Scar (Chiwetel Ejiofor) has plans of his own to rid both the king and prince so he can rule Pride Rock. He wins the battle, and Simba is exiled, but with help from new friends Simba figures out how to grow up and take back what is rightfully his.
I've seen all three versions of The Lion King – the 1994 animated film, the 2014 live stage musical and now the 2019 cinematic remake. All three have their unique takes on the story, in particular Favreau's.
One of the most enthralling things about the latest movie is the depth of tragedy audiences can find themselves taking to heart. With the story's darker themes and incredible computer technology, it's easier to connect with the characters because they look so real; their fur, their manes, the way they walk and their body language is so lifelike, you can almost reach out and touch them.
Mufasa's death is difficult to watch, the fight scenes keep you on the edge of your seat, and seeing any character hurting physically is far more painful because you're seeing 'real' animals on screen.
The plot and length of storyline remains the same, unlike this year's Dumbo which saw an extension of the original tale, so there is no narrative risk. Disney fans the world over won't care though, because the beloved tale of Simba holds true to old roots with a new take on cast.
Although McCrary and Glover took to the voice of young and adult Simba in perfect stride, the return of Jones as Mufasa was 100% on point, and I fell in love with the African originality that was Florence Kasumba who voiced hyena Shenzi, I took slight issue with Ejiofor taking over the role of Scar and Beyonce Carter-Knowles as Nala.
If we're going to make comparisons, I felt it a shame Jeremy Irons wasn't asked to bring back to life Scar with the more darker tones he used in 1994, while it seems like Carter-Knowles took on the role of Nala as part of a bargaining chip to sing the love song Can You Feel The Love Tonight.
I was also slightly disappointed that Zazu's original scene of sitting behind bars singing Nobody Knows/I've Got A Lovely Bunch of Coconuts was not included.
But despite those grievances, The Lion King has its laugh-out-loud moments thanks to Zazu (John Oliver), Pumbaa (Seth Rogan) and Timon (Billy Eichner), including a surprisingly funny change to the latter's Hula song (and yes, I snorted when I laughed).
For those interested in the musical score, Hans Zimmer returns with his music. Most songs are slightly changed with subtle differences, but Zimmer's reluctance to make any changes to The Circle of Life pays off because the stellar introduction brings a tear to the eye for those who grew up with the film and its music.
The Lion King is hugely entertaining, and although it's rated PG, I wouldn't recommend it to children under eight years – the hyena vs cubs scene, fight scenes, and lions roaring can all be frightening for younger aged audiences.
Don't miss The Lion King, out in cinemas this week on July 19.
Review: 4 out of 5
Production: Disney 
Rating: PG
In cinemas: July 19