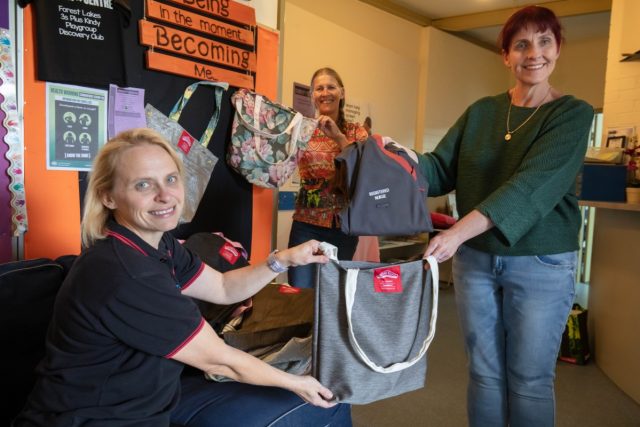 One local non-for-profit organisation has sewed and donated boomerang bags as part of the national Adopt a Healthcare Worker campaign.
The initiative has sparked interest in most states and territories, with more than 140,000 members committed to making healthcare workers' lives a bit easier.
About 55,851 members in Western Australia have joined the heart-warming campaign, with the aim of helping healthcare workers in need amid the coronavirus (COVID-19) pandemic.
Forest Lakes Thornlie Family Centre was invited to join the group by registered nurse Kate Allie on March 15.
Healthcare workers were asking online if members of the community could sew bags for their hospital uniforms and shoes, an opportunity the local centre couldn't miss.
Centre coordinator Kristy Campbell said it needed bags that were machine washable and easy to carry, and boomerang bags seemed like the right option.
So far volunteers have produced more than 500 bags for the community, and 130 bags have been donated to healthcare workers.
The centre had originally launched the Boomerang Bags project two years ago in partnership with Forest Lakes Uniting Church.
The project is part of a global grassroots movement connecting an opportunity for social interaction and the development of new skills while fostering sustainable behaviour.
"We wanted to support healthcare workers and recognised we already had a useful resource we could offer," said Ms Campbell.
"This initiative provides something that helps protect our community's mental health, while supporting our health care workers' physical health.
"We are also providing our members with a sense of purpose, keeping them mentally stimulated and connecting them with the community during this difficult time."
Canning Vale resident and staff member Tracy Sartori said helping healthcare workers during this time of crisis was rewarding.
"It is rewarding and fulfilling to provide something that boosts our self-confidence and natural sense of accomplishment, while supporting the vital needs of health care workers," she said.
"We have a great community who have donated their time and materials, but we are always looking for more volunteers and material.
"We have recently adapted the pattern, making the bags wider, so healthcare workers can fit their shoes and uniforms in them."