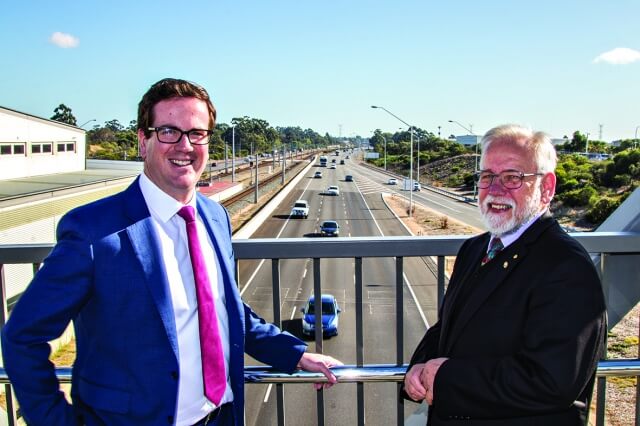 Armadale Road will receive two upgrades worth more than $380 million as part of a joint Federal and State Government funding package.
The Federal Government's 2018-19 budget was announced last Tuesday and included more than $1.6 billion in funding to Western Australia for road and rail projects.
The State Government also vouched to commit $745 million for projects.
Key works in the Armadale area in the State Government's plan included $237 million to build a bridge linking Armadale Road and North Lake Road over the Kwinana Freeway.
The bridge was an election pledge made by Premier Mark McGowan and was well received by Armadale mayor Henry Zelones who said last year plans to widen Armadale Road made little sense if it was not connected to North Lake Road.
Mr Zelones had campaigned with City of Cockburn mayor Logan Howlett in support of the bridge and said he was delighted with the news.
"It's a positive response to the campaign the cities have pushed for," he said.
"For a fair length of time an overgrown traffic situation has been occurring in and around the freeway."
Mr Zelones said the extra time people were forced to spend in their cars because of traffic congestion on Armadale Road had economic and environmental impacts.
"This should assist a lot given the great number of people living in Piara Waters and Harrisdale who have to drive to work," he said.
A project to continue widening Armadale Road between Armadale and Cockburn was also granted $145 million in funding.
Member for Burt Matt Keogh said he was glad the Federal Government had been considerate to WA in its budget.
"The Armadale Road bridge and a duplication of Armadale Road will make our journey faster and safer," he said.
"The Federal Government has realised it has to start listening to what the people of WA want."
WA Liberal Party leader Mike Nahan said he was glad an agreement for road and rail infrastructure work had been made between the governments.
He said he supported the former government's Perth Freight Link project but it made sense for WA jobs to redirect funding to alternative projects under Labor.
"The Commonwealth couldn't afford to allow jobs to be killed and so made the right decision to redirect the funding," he said.