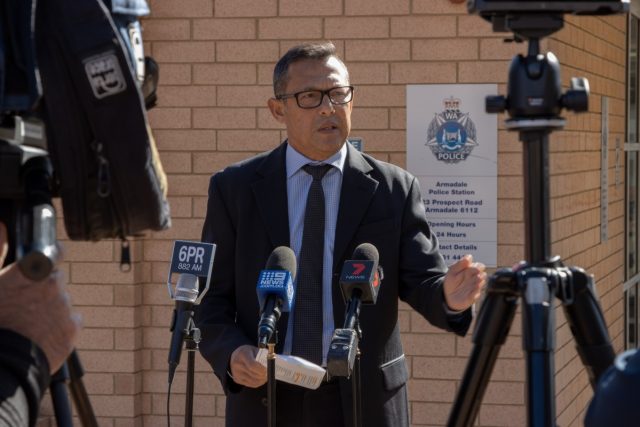 Armadale detectives have spent this week trying to piece together what led to a series of targeted assaults across Perth's south-east that ended in a violent home invasion in which a man was repeatedly shot at. 
The two-hour rampage began on Jarrah Road in Roleystone about 4.45pm on Monday and involved a motorist who was allegedly assaulted by two men following a verbal altercation. 
About 5.30pm, the alleged offenders headed to Byford where they were involved in an attempted burglary in Plaistowe Boulevard. 
Ten minutes later, the men headed south, assaulting another man in Mortar Pass. 
While discussing the incident with Police, the victim reported having seen one of the offenders carrying a silver handgun. 
Police allege the four men then travelled to Cardup in a white 2017 model Ford Ranger utility, attending a residence on Cavanagh Close about 6.25pm. 
The vehicle was driven into the garage before a firearm was discharged through the front door of the home. 
The men allegedly entered the residence and fired several shots, one of which struck a male resident in his 20s in the back. 
The resident was then assaulted by the four men, sustaining serious facial injuries before they fled the scene in the Ford Ranger.
The victim was taken to Armadale Hospital for treatment and later discharged. 
The incidents sparked a region-wide manhunt; with Armadale detectives releasing the names of three men they believed could assist them with their investigation. 
Senior Sergeant Keith Neubronner, from Armadale Detectives, confirmed that Police believed that all four incidents were connected, but refused to elaborate on why they believed that to be the case. 
Three men have since been charged with a string of offences, including assault, aggravated burglary and possessing an unlicensed firearm, and are expected to appear in Armadale Magistrates Court later this month.
Anyone with information regarding the incidents is urged to call Crime Stoppers on 1800 333 000 or report the information online at crimestopperswa.com.au.