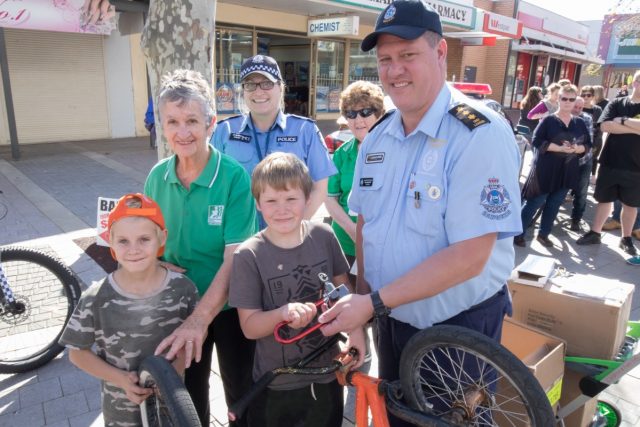 A total of 80 bike alarms and 84 personal alarms were given away this week with an aim to enhance public safety within the greater Armadale community. 
Volunteers from Armadale Neighbourhood Watch teamed up with officers from Armadale Police to giveaway the safety devices to City of Armadale residents at the Jull Street Mall earlier this week. 
Armadale Neighbourhood Watch chair June MacDonald said the event was an outstanding success.
"The personal alarms can be used when they are out walking and are loud enough to attract attention if the person thinks the alarm needs to be used," she said. 
"While the bike alarms are a deterrent for bikes being stolen. 
"The alarms are strong and make a piercing sound so attracting attention if someone tries to steal a bike." 
Ms MacDonald said these sorts of events created a great opportunity for residents to speak with police and Neighbourhood Watch representatives about any concerns they have in their community. 
"For the public it is very important as they approach the police officers in a personal way and do not feel any pressure in relating what to them may be a major problem but often one which is readily resolved," she said. 
Armadale police officers also handed out free D-locks to residents who brought their bike along to the event. 
Armadale Neighbourhood Watch will host a similar event in Harrisdale next month.