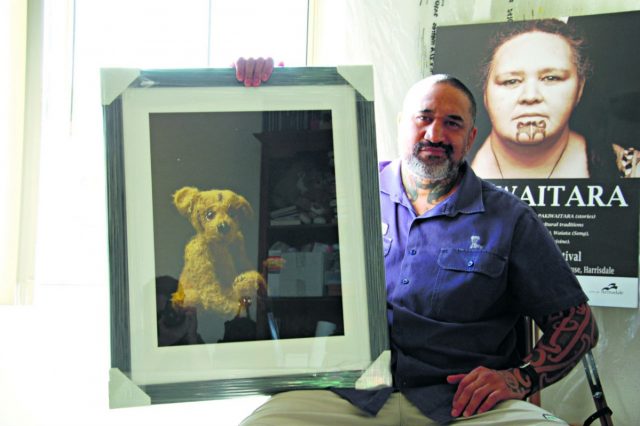 Armadale's 2018 Citizen of the Year was hoping an upcoming community exhibition would make big steps in breaking down social issues in Armadale.
Founder of community art and outreach group Art Vs Depression Gavin 'Gracey' Grace has organised a Maori cultural exhibition called Pakiwaitara which will share the traditions of Taa Moko (Tattoo), Haka (Challenge), Waiata (Song) and Kai (Cuisine).
And while the event was ostensibly a profile for the local Maori community Mr Grace believed it wa another step in addressing problems which affected the community.
"The whole idea for us is that art is just a vehicle that we utilise to try and influence a cultural change in the community around depression and social issues," he said.
"We try to tackle every social issue that's causing pain.
"The ones that are hitting the news most like youth suicide, domestic violence, homelessness, bullying, we hit them all."
It's a motive that's personal to Mr Grace who started Art Vs Depression after losing faith in his career and overcoming a period of depression himself.
"I was involved in the art industry for a while doing a lot of commercial work, that sort of thing," he said.
"It ended up crushing my creative soul.
"I bought into this whole industry thing of, 'Oh, it's about me, and me trying to get on the front page'.
"It was all about me, and it almost destroyed me.
"It was only when I realised that I could do something so much better, something through the community through what I do that I came out of that."
Mr Grace through the Art Vs Depression platform has spent years addressing those topics through a range of artistic mediums including theatre, film, poetry and visual arts.
This will be the first time photography detailing the lives and culture of Maori people will be used to share those same stories.
Mr Grace said the one day event will use the photographs as a jumping-off point for those big issues.
"We wanted to share our real life stories and how our traditional ancient Maori culture is such a strong influence on how we live our lives today," he said.
"Our culture is rich and in times of challenge, hardship or celebration, our ancestors are with us always."
Mr Grace believed art, and audience's reaction to it, is the most powerful way of breaking down social barriers.
"Unfortunately those things are a part of our community," he said.
"The reason for us doing this is that we actually need to own up to and accept that fact.
"It's no good for us as a community to try and push them under a carpet or turn our back to the problems.
"We need to own them. That's the only way we can heal as a community."
The Pakiwaitara Maori Cultural Exhibition will be held at Baker's House, Harrisdale on May 20 from 11am to 4pm.