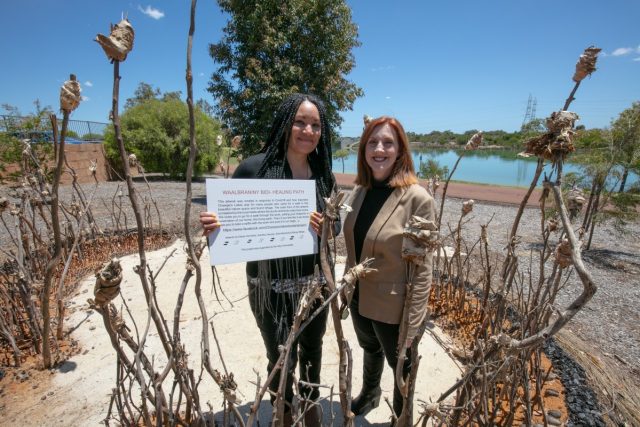 A team of talented local artists have officially unveiled a land art installation in Champion Lakes, erected in honour of the community's strength during the COVID-19 pandemic. 
Several months ago, the City of Armadale reached out to local artists to create a piece of land art that demonstrated the way in which the community had come together during the pandemic. 
Champion Lakes was chosen as the location because of its significance during that time, having served as a place of refuge for the community during lockdown. 
Renowned land artist Elaine Clocherty, local artists Elise Marshall and Renae Whyte and cultural advisor Kandice Hansen braved trying weather conditions, sourced natural materials and installed the art piece over four days.
The piece, entitled Waalbraniny Bidi, which is Noongar for Healing Path, was inspired by the lake's reeds that create nesting places for local waterbirds while symbolising the pathways that lead to a healing place. 
Ms Whyte thanked the city for supporting local artists and for the opportunity to share their voice through art. 
City of Armadale mayor Ruth Butterfield said the art piece was a fabulous addition to Champion Lakes and encouraged residents to visit and enjoy it.
"Projects like this really connect the community and demonstrate just how strong it is and how deep that connection runs," she said. 
"It's really special and I'd encourage everyone to come down, have a look at the artwork, think about those months in lockdown and consider just how lucky we are here in WA." 
Residents are encouraged to take photographs of the artwork and share them to facebook.com/ Championlakeslandartproject