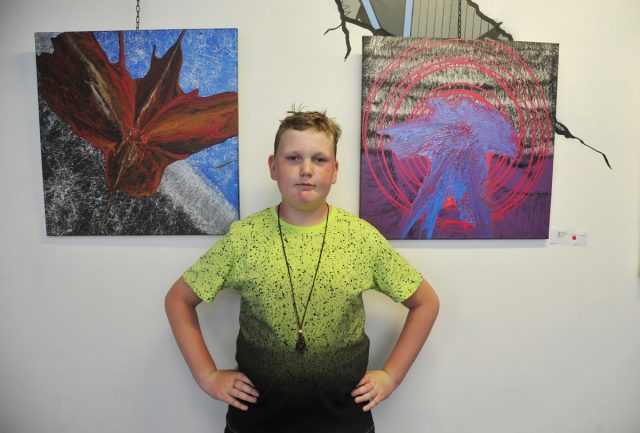 Children aged 11 to 15 years old in Gosnells will now have the opportunity to be heard through art in a public platform dedicated for young people to voice their issues or opinions to the community.
After working with many schools for the past two years, founder of Art vs Depression Gavin Grace decided to launch the Drop Zone 13 project.
"Due to the feedback we were getting from being in schools we started to see the same patterns that started to emerge with young people needing some form of platform and seeing their voices were being drowned out we made the project a reality," he said.
On December 7, Drop Zone 13 officially opened to the public in Gosnells Railway Markets.
Eleven-year-old Leif Byrne became the very first young artist to display at the new gallery with nine original paintings with personal explanations to each one of them.
Leif has been painting for five months now and decided to paint because issues were arising at school and he said he needed an outlet to harness these emotions in a safe environment.
His paintings represent the meaning of puberty and a journey of feelings during times of excitement, nervousness and meagreness.
However, Leif said there are certain things that keep him awake at night including the ever-present fear of not wanting to grow up because of taxes, mortgages and climate change.
Mr Grace said he hopes Leif and other young children facing issues at school or at home become more confident with their self worth and value.
"That they feel comfortable in their own voice to be vocal about their opinions within community," he said.
The gallery will be initially running five exhibits from young people once a month.
Once they conclude each young artist will have to collaborate on an interactive piece that tackles an issue within their community and as a group they must find solutions through art and then present it to the public.
New voices from the city will be recruited every month and the next drop Zone 13 will kick off in late February.
For more information call Art vs Depression on 0476 135 227.