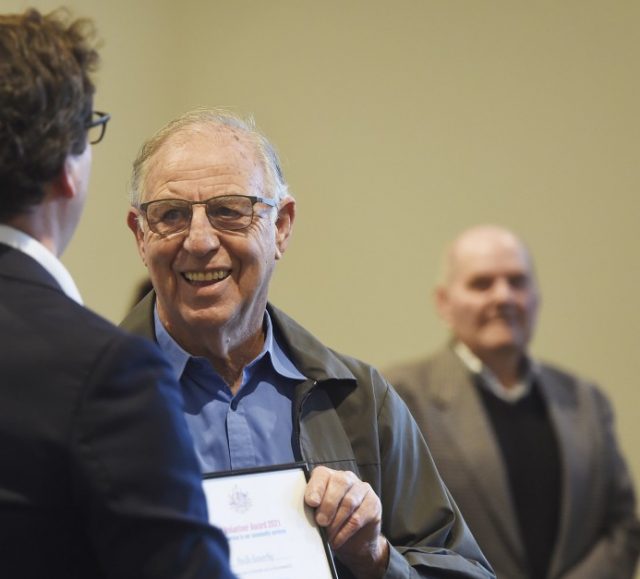 During this years Burt Volunteer Awards, community champions were recognised for their contribution to the Federal Electorate of Burt including Neville Raxworthy for his dedication to the Gosnells District Neighbourhood Watch (GDNHW).
According to Mr Raxworthy, he and his wife Dawn Raxworthy have committed time to the GDNHW for the last 25 years.
"I have had many roles during that time including as chairperson of both the GDNHW and Armadale/Gosnells Regional NHW for three years respectively, secretary of GDNHW for seven years and I am now an active member," he said.
"I have volunteered one afternoon a week at GNDNHW Resource Centre as well as providing NHW information."
Mr Raxworthy won the Burt Volunteer Community Service Award this year, which was presented by Federal Member for Burt Matt Keogh.
"I've known Neville and his wife Dawn for about 20 years now," Mr Keogh said.
"They are truly the gentlest, self-effacing and dedicated people you could meet. "They are always happy to contribute, nothing is too much trouble and they are so committed to improving the lives of people in our community."
Mr Raxworthy has been a Justice of the Peace since 1985 and led Gosnells Community Youth Service scheme in the 1980's.
He has also been the Gosnells Croquet Club President for 9 terms and has contributed to a number of school education and safety programs around our community.
"Around the time of our retirement the City of Gosnells had the Safe City Program as well as involvement in Safer WA," Mr Raxworthy said.
"This included councils, schools, and WA Police.
"We joined GDNHW and became involved in supporting the council, police, and community events, with the aim of providing information and projects to help residents feel they were part of a community."
Mr Raxworthy said the response from residents receiving information generally makes him feel that volunteering is worthwhile.
"While receiving the award and recognition from Mr Keogh MP gives a personal satisfaction," he said.
"There is a lot of volunteers out there putting an effort in to support their clubs, organisations and more, so it also makes me feel humble."
"To me volunteering is the lubricant that keeps clubs, organisations, public services, and more running."
Mr Raxworthy had sage advice for people who are considering volunteering.
"It keeps you in touch with your community and gives you a broader range of experiences and people that share your interests," he said.