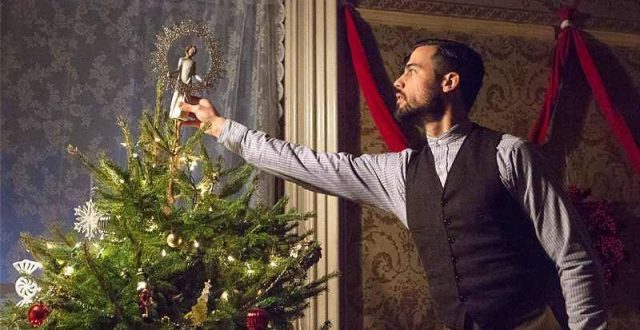 While many festive movies come and go The Spirit of Christmas stands out from the others.
It's not your typical holiday season movie and it has a surprising twist at the end.
Workaholic lawyer Kate (Jen Liley) is sent to a reportedly haunted house three weeks before Christmas for an appraisal before it is to be put on the market.
She finds herself meeting Daniel (Thomas Beaudoin) a turn of the century ghost with a penchant for piano playing and brooding, which he does very well.
Daniel is trapped in the mansion, doomed to roam the rooms every Christmas and disappears every Christmas Eve only to reappear again at the start of the holidays.
He is trapped forever.
The only thing that can set him free is if his murder is solved, which is exactly what Kate proposes to do.
However she finds herself falling in love with Daniel and she has to make the ultimate choice, help him move on or condemn him to the Christmas curse forever so she can spend every holiday with him.
The movie stands out from countless other cheesy festive films.
It has an interesting plot and will keep you guessing right until the very end.
It's the perfect Christmas whodunit, which you wouldn't want to miss this holiday season.
Rating: 4 out of 5 stars
Rated: PG
Out now on Netflix