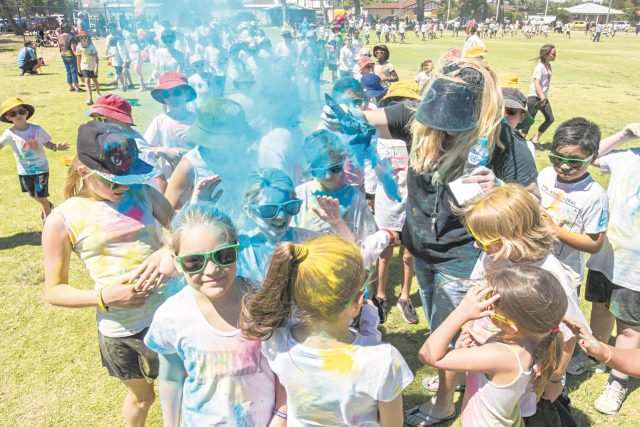 A Seville Grove primary school's students and staff have taken a colourful approach to raising thousands of dollars for their school.
Willandra Primary School hosted its own version of the worldwide phenomenon The Color Run on November 24 with nearly all students, staff and parents involved.
The Color Run is a popular social event held in cities and towns across the world in which participants don white clothing for a medium-distance walk or run.
During Willandra Primary School's event volunteers covered runners in a rainbow of powdered colours as they completed laps of the school oval.
The powder is in fact corn starch coloured with non-toxic dye and can be washed away without danger to participants or the environment.
Nearly $8500 was raised through the event, but after outside organiser costs were settled the school came out about $5000 in the green.
Willandra Primary School's event came a year after Woodland Grove Primary School in Byford hosted its own run, which it said had helped raise a lot of money.
Willandra Primary School P&C fundraising coordinator Tash Harvey said students and staff had greatly enjoyed the experience.
"It was really good fun," she said.
"The children loved it, they were excited all day – the teachers could barely contain them."
About 540 children and adults were estimated to have been involved in the run, which Ms Harvey said had been received so well the school would look into it for future
"We had quite a few online comments from parents about how much fun their kids had and how they can't wait to do it again," she said.