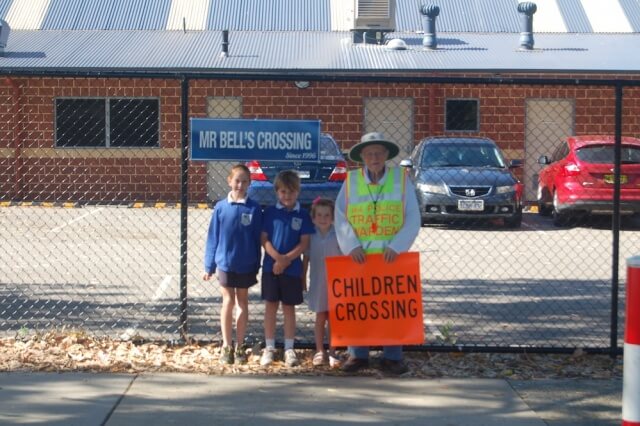 A Kelmscott traffic warden now has a crossing named after him after celebrating his 20th year helping children cross the road.
Gordon Bell, 83, has helped children cross the road all around Perth but has been at the Kelmscott Primary School crossing for 20 years.
Earlier this term the school's P&C dedicated his Orlando Street crossing to him and unveiled a sign saying 'Mr Bell's Crossing'.
Mr Bell said Kelmscott was a great school.
"I did it everywhere until I came here, I liked it so much I thought I'd do it in the same spot," he said.
"I like the children, they're very good here."
He said traffic wardens had an important role to play at schools.
"It's the safety of their children and the parents themselves," he said.
He said he has loved his job and hoped to continue as long as his body permitted.
Kelmscott Primary School students also loved Mr Bell helping them cross the road every morning and afternoon.
Lucy Wright said he kept them safe while crossing the road.
Joel Blackwell said he told people not to run on the road.