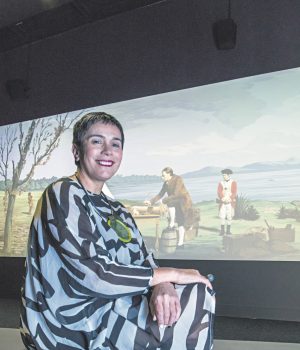 An art exhibition which explores the earliest recorded history of Australia and its neighbouring islands has landed at the John Curtin Gallery in Bentley.
Lisa Reihana: Emissaries hit Australian shores for the first time this year after debuting to up to 450,000 people in Venice last year, and comes to Perth after first showing in Sydney.
The exhibition features works from the earliest points in the region's recorded history, including cabinets used to store specimens from Captain Cook's first voyage to Australia, and prints and drawings based on those by artists on the HMS Endeavour.
At the centre of the exhibition is Ms Reihana's major piece – the 64-minute long film, In Pursuit of Venus [infected].
In Pursuit's panoramic depiction of the earliest meetings between indigenous peoples and British explorers in the south Pacific reveals the people, cultures, and experiences recorded over four voyages, and the interactions upon meeting.
The feature took Ms Reihana seven years to complete, and involved more than 100 actors and production crew.
"This is the centrepiece of the work," she said.
"Venus is to do with Captain Cook, as it was the global moment they were recording the travel of Venus – which set longitude and helped fill in the map of the world.
"Infected brings a whole other complexion."
Ms Reihana said she went to great lengths to include a variety of recorded historical references within the work.
"I found a sea shanty written by one of the crew members, and I had it recorded," she said.
"I wanted to balance up the idea of performances and sounds – Polynesian dancers, as well as European cultural practices.
"There's lots of different pieces in it."
Ms Reihana said Emissaries had been tailored to a Perth audience, and will run until April 29.
Entry is free.
Ms Reihana is also hosting a free floor talk on the creation of In Pursuit with collaborator James Pinker on February 7 from 12.30pm to 1.30pm at the John Curtin Gallery.