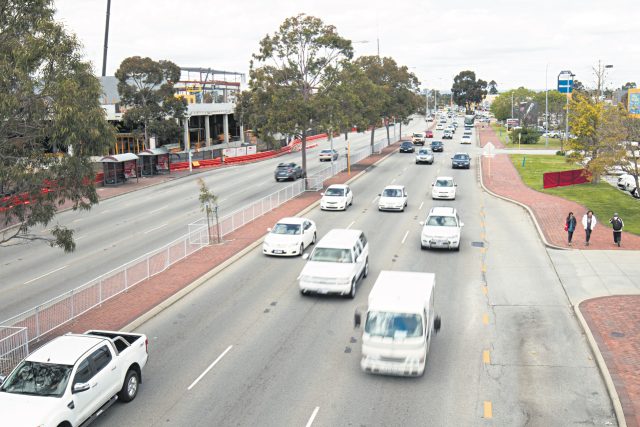 Albany Highway in Cannington has been flagged as the worst spot in Perth for car crashes, according to a major insurer.
AAMI's 2017 Crash Index report placed the stretch of road as Perth's worst for the second year running, though it did not give figures for the number of recorded incidents.
The section is one of Perth's key roads and is a major intersection for vehicles entering and exiting Carousel Shopping Centre and the surrounding businesses.
AAMI spokesperson Michael Mills said due to the high density of traffic it was unsurprising the area had become an incident hot spot.
He said there had been some changes in this year's list, including a big jump for Ranford Road.
"Ranford Road in Canning Vale also experienced a spike in climbing for 14th to sixth spot which could have been caused by higher volumes of traffic accessing a new housing development," he said.
Mr Mills said drivers who forgot fundamental driving rules were often the cause of incidents.
"Concentration is key, especially when travelling in heavy traffic," he said.
"It's important to leave enough room between you and the car in front, keep to the speed limit and avoid distractions like mobile phones."
AAMI's latest research results said around half of all drivers recognised distractions were the major cause for accidents on the road, yet a significant number still allowed themselves to become distracted while driving.
"One in five drivers would text while stationary at traffic lights if they could get away with it and one in four would have a conversation on loudspeaker with their phone in their lap," he said.
"More than a third of drivers also said it was really hard to resist the temptation to check their phones."
The results showed that only three per cent of drivers said they would text while driving if they thought they could get away with it, but nearly half of all surveyed Western Australians said they would touch their GPS while stopped at traffic lights.
Mr Mills said this needed to change.
"While it's pleasing to know that many drivers are uncomfortable with texting or holding phones while they're driving, there are still alarming numbers of drivers who don't see the potential harm of other common distractions," he said.
"Even when used legally, mobile phones can be very distracting for drivers – particularly phone calls.
"We would urge drivers to limit their use of phones while they're driving and only operate them when it is absolutely safe to do so."