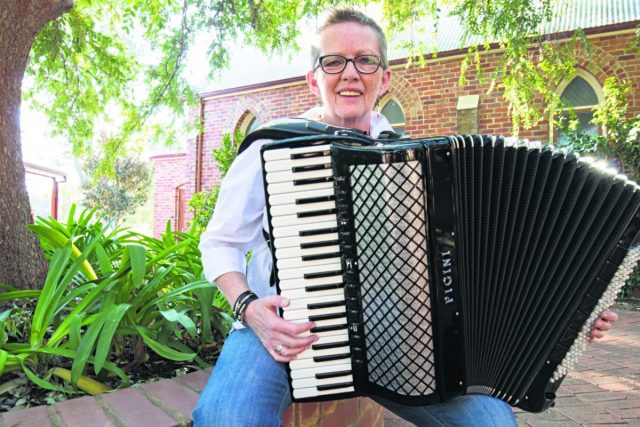 One of the most highly-regarded accordionists in Australia Cathie Travers will host a special intimate show at Minnawarra Chapel to cap off this year's Live at the Chapel series.
Since the 1970s Ms Travers has worked as a singer-guitarist, keyboard player in rock bands, a classical pianist, avant-garde keyboardist and exponent of digital technologies in music but now travels across the country on the platform of her prodigious key and composition skills.
Ms Travers will combine on the night with the Classic Sounds Orchestra who in a relatively short time have earned a reputation for their powerful performances and prolific touring around the state.
Ms Travers said the event was a signifier of how important music was as an art form in Armadale.
"Humans all over the world indulge in practicing the arts at all sorts of levels," she said.
"It's no surprise to see things happening.
"What is good is to see the City of Armadale embrace the idea of having a festival. "That's important in any community because it's obvious that to get anything started it doesn't happen just out of a wish and a prayer."
Ms Travers' usual equipment includes one to three accordions, keyboards, guitars and others meaning the opportunity to play locally was one not to pass up.
"People in the arts are like any other person in the sense that they need a place to work," she said.
"So I have a place of work in the sense that I do all my composing and arranging at my place but I need somewhere to go out and do my gigs.
"There are not a huge number of venues in the City of Armadale that regularly host live music so in that sense the festival is very important and significant.
"A few years ago this place was basically just a pile of bricks but since then it's been developed and now we have this beautiful space."
Ms Travers was as much a music fan as a music virtuoso, and has only good things to say about the festival so far.
"This is only the third year of the festival at this size," she said.
"The art awards have been going for 20 years now and it's very well supported but the festival is now broader than just a visual arts event."
Cathie Travers and the Classic Sounds Orchestra will perform at Minnawarra Chapel from 2pm on Saturday May 19. Tickets available through trybooking.com.