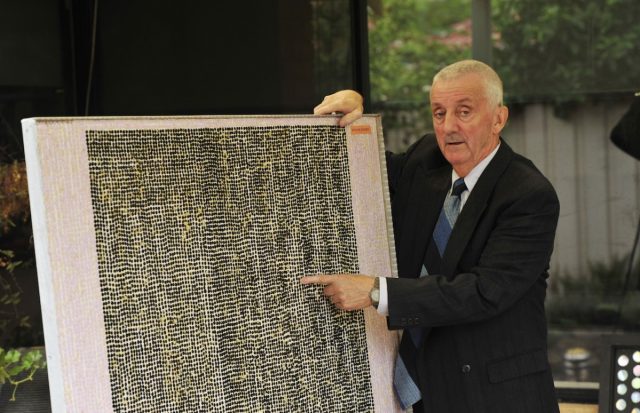 An anti-asbestos campaigner who has dedicated himself to having the substance removed from his neighbourhood has unveiled artwork recognising those who have died from the substance.
East Cannington resident Des Bowers has targeted asbestos across the region for years, most recently helping get damaged pylons removed from outside a popular suburban bus stop.
Switching himself now to artistic pursuits, this month Mr Bowers unveiled a piece of art entitled Wave Me Goodbye which commemorates those killed or those who are dying from asbestos poisoning.
Made up of thousands of reflective pieces of plastic, each symbolising a life, Mr Bowers said he intended to display it outside parliament house and electorate offices and hoped to help show the real numbers of those affected by the disease.
"People need to know this," he said.
"It's not a nice way to die.
"To fob it off and say it's safe to walk by is not the answer."
Mr Bowers said West Australia was entering a "third wave" of asbestos poisoning, where amateur, unprepared DIY renovators are being exposed.
The latest figures by Safe Work Australia on mesothelioma and asbestosis – both asbestos-related diseases – showed more than 700 Australians died from the disease in 2011 alone.
Mr Bowers said he wanted more warning signage around areas known to contain asbestos and was eyeing a Queens Park reserve as his next target.