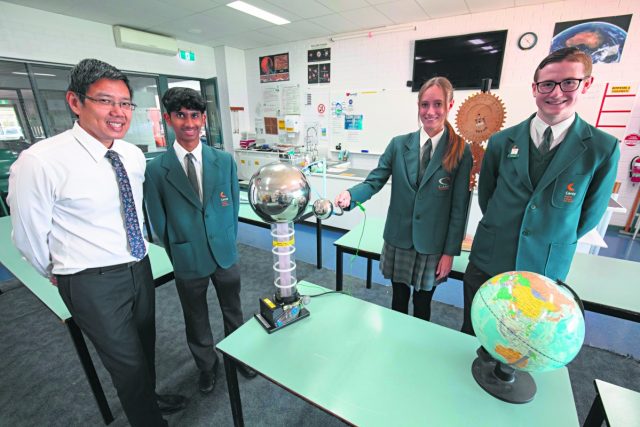 Two Carey Baptist College students may be headed to Romania after helping the college achieve second place in the International Young Physicists Tournament Australia Challenge held last week.
The team consisted of Year 11 students Geo Vazhalanickal, Lianna Paisley and Year 10 student Owen Yandell.
The tournament included schools from across Australia and was held online from December 6 to 7.
The Carey team was coached by Carey Baptist College director of STEM Gideon Choo who said the students performed with distinction in the cutting-edge competition.
"In a process that closely resembles actual research, our team was given the problems a few months in advance," he said.
"They trialled different experimental setups and closely analysed the data recorded.
"They then engaged in real-time debates with their opponents who had studied the same problem from their own perspective.
"Both the presenter and the opponent were judged by teachers based on their ability to critique the concepts involved.
They were quite complex problem, as an example one of the problems was an examination of an invisibility lens that makes objects invisible, and there are so many layers to that from a scientific point of view.
"There was a lot of time spent in the lab, lots of research and it is great for their future because it closely resembled the work you have to do at a university from an academic standpoint."
Geo Vazhalanickal and Lianna Paisley have been invited to form part of the Australian National Training Squad for the International Young Physicists Tournament (IYPT) which will be held in Romania in 2022.
Mr Cho said this will be a truly unique opportunity to work with other Australian team members and to see how other countries approach the same problem.
"This achievement shows the level of passion they have for science, the problems they had to solve were incredibly complex and open-ended, so to be selected as part of this squad is quite incredible and I'm very proud of them," he said.
The team's participation in the tournament was made possible through a Student Science Engagement Grant from the Department of Industry, Innovation and Science.