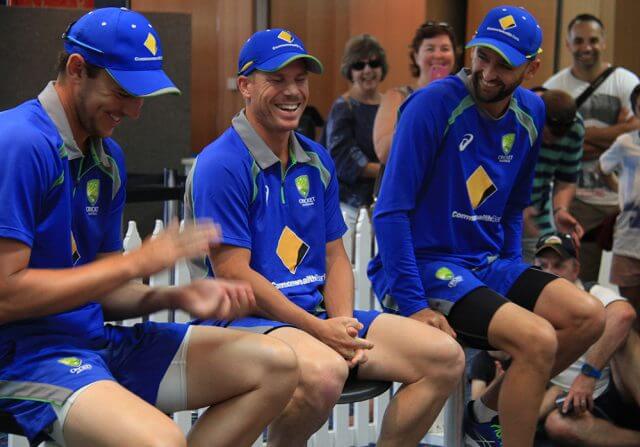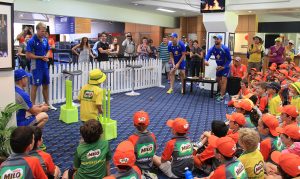 Tossing kiwifruits and drawing moustaches on their favourite Australian cricket stars was all part of the fun for more than 100 budding Perth cricketers last week. Robyn Molloy attended a session at the WACA for youngsters prior to the Australia v New Zealand Test.
Australian spinner Nathan Lyon, superstar batsman David Warner and fast-bowler Josh Hazlewood took time out from training to meet some of their small fans last week.
Juniors cricketers from Cannington, Gosnells, Thornlie and Armadale who were registered to play milo in2cricket and milo T20blast were among the select group who met the Australian players at the WACA.
They took part in a Q&A session and activities.
Players shared a laugh with their young audience over who was the most annoying teammate but got serious about how much training was needed to get to the top of their game.
Hazlewood, who also played soccer as a child, told the eager listeners he started out playing cricket in the backyard and with mates in school and hitting balls around whenever he could.
Lyon, who played in2cricket as a boy, said he loved the mateship and travel.
"We're pretty privileged with what we do and we have made great mates along the way and all of Australia and all over the world gets involved," he said.
Warner didn't name an annoying teammate and denied he took the title, pointing the finger at coach Darren Lehmann for being too serious instead.
"I don't think he is annoying, it is more that he is too serious like if you play a joke on him he will put your car on ebay, he's done it before," he said.
Lyon gave a hilarious insight into why he became a spin bowler.
"I always wear long sleeves because I have no muscles, that is probably why I took up spin bowling because you don't need a lot of muscle to do that," he said.
"Nathan has probably got the biggest muscles out there on the Australian team."
Why he is good at spinning was a more serious matter: "We train a lot, we go and train and try and get better each and every day so that is probably the reason, we train to perfect our skills," he said.
In reponse to questions about favourites, Warner, an author of children's books, said his first book in the Kaboom Kid series was the one he liked best.
Lyon declared his favourite food after vegetables was chocolate while Hazlewood said his favourite colours were green and gold.
Hazlewood showed a fan how to hold the ball to get it to spin, while everyone joined in a quick but bad rendition of AC/DC's TNT.
It was all part of the fun poking, with Warner apparently good friends with One Direction while Lyon was said to prefer the Wiggles.
The session ended with the bowling of kiwifruits and a competition for who could draw the best moustache on a player in recognition of Movember.
After an autograph session the children were led outside where they could see the entire Australian cricket team practicing on the WACA.
They left on a high, some vowing they would one day play for Australia.
Milo in2cricket is for five to eight year olds while Milo T20blast is for seven to 12-year-olds.
Visit playcricket.com.au.