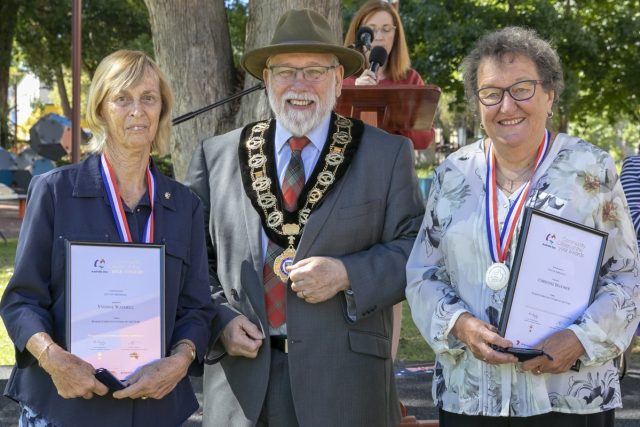 A teacher, a president of a local theatre group and a stalwart volunteer were among those recognised at this year's City of Armadale Australia Day Council WA Community Citizen of the Year Awards. 
This year there was a tie for the Community Citizen of the Year senior category with the awards going to Yvonne Waddell and Christine Bloomer. 
Ms Waddell was recognised for her outstanding service through her positions as a teacher at local schools, a chaplain and state commissioner for Girls Brigade, Sunday school teacher and her involvement with the Roleystone Hockey Club and Royal Lifesaving Society. 
Ms Bloomer was recognised for her active involvement in the Roleystone Family Centre, St Christopher's Anglican Church and Animal Companions. 
Ms Bloomer said she felt honoured but slightly embarrassed to receive the award. 
"I absolutely love the work I do, especially the work with Animal Companions which allows me to take my Labrador Willow to visit people at various nursing homes," she said. 
"Most people when they go into a nursing home they have to give up their pets so they love our visits." 
This year's Active Citizenship Award was presented to Roleystone Theatre President Keith Thomas-Wurth on behalf of the group's outstanding contributions to the community for the past 85 years. 
Mr Thomas-Wurth said he was honoured to accept the award, particularly in what has been a tumultuous year. 
"The pride was not for me for in my mind there were all those men and women, boys and girls who for 85 years entertained, instructed, guided and developed a young community through dedication to the dramatic arts while developing themselves as a valuable member of the community," he said. 
"It shows recognition of the contribution Roleystone Theatre has made to the Armadale and surrounding communities and that makes it all worthwhile." 
This year's Citizen of the Year award went to Andrew Clift for his outstanding service to the community over the past 34 years with the Armadale Volunteer Fire and Rescue Brigade. 
The City of Armadale didn't receive any nominations for the Citizen of the Year youth category.