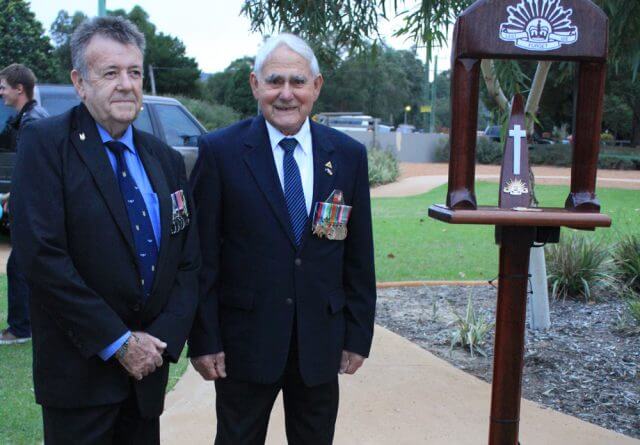 Jarrahdale war veteran and treasurer of the Serpentine Jarrahdale RSL club Peter Dimopoulos died on the weekend aged 90.
Mr Dimopoulos, who was named Anzac of the year in 2013, was held captive by the Japanese during World War II and famously survived because he learnt how to speak Japanese and acted as an interpreter.
Born in Greece Mr Dimopoulos moved to Australia as a child and completed a year of schooling in Port Augusta, South Australia.
He overestimated his age to join the defence force as a 16-year-old and was in the merchant navy for a year before joining the AIF in 1941.
Mr Dimopoulos was captured in Singapore in 1942 by the Japanese and spent time enduring horrendous conditions as a POW in Thailand.
He was one of 29 Greek Australian soldiers captured.
Mr Dimopoulos once said his time as a POW had left 'mental scarring which had a lasting detrimental effect' on his working life and education.
After the war ended in 1945 he was released and returned by ship to Fremantle.
He acted as an interpreter during war trials following World War II.
Mr Dimopoulos fought the Australian government for official recognition for his role as an interpreter, which was several ranks higher than his job as a private.
Whilst it was never officially granted, special operations commander Major General Jeff Sengelman recognised his plight and presented him with a certificate and statue of a soldier at a special ceremony at Anzac house on July 17.
At the time Major General Sengelman said conversations with Mr Dimopoulos in 2014 had left an impact on him and said what Mr Dimopoulos had experienced was 'the worst of the worst'.
"We had a discussion about his experiences in war, the sacrifices he made and the impact of that," he said at the July ceremony.
"I gave an undertaking to Peter I would come back and in a small way would formally recognise that sacrifice and the impact of that.
"You didn't think I was coming back did you mate.
"Peter thought I was another of those Canberra-based generals that made promises and he never saw again.
"And to be fair I think Peter has met a couple of people like that who he felt had not stayed the course.
"Peter on behalf of myself and of the army of a grateful nation I am here to tell you publically that I believe in you.
"That I recognise the service you rendered in the prisoner of war camps as an interpreter and I am amazed and impressed at how much you gave and how well you did it."
Mr Dimopoulos was well known in the community and inducted into the Football West hall of fame in 1996.
He was state coach of women's football for a number of years, president of the professional soccer league and on a number of committees over the years.
Serpentine Jarrahdale RSL president Ric Giblett said Mr Dimopoulos would be deeply missed.
"Peter was the epitome of what all club members should be," he said.
"Irrespective of what his health was like he would turn up to whatever was going, he wouldn't be able to do much but he would be there and that was how he was. That is just an extension of how he was in his life."
Mr Giblett said he was treasurer until his final days after taking on the role in 2005.
"Our last AGM was the Sunday before he died and he came to me quietly and said I can't do it anymore, I need to give it up but I am letting you down.
"I said no your not, but that's how he was, he thought he was letting us down but he wasn't."
State president of the the WA RSL Graham Edwards paid tribute to Mr Dimopoulos today.
"Peter was simply one of the best, an outstanding and committed RSL member who earlier this year was also recognised by the Commander of Special Operations in Australia for his work as a soldier and POW interpreter," he said.
Mr Dimopoulos's funeral will be held on Monday at Fremantle cemetery.
He is survived by his wife Barbara and children.