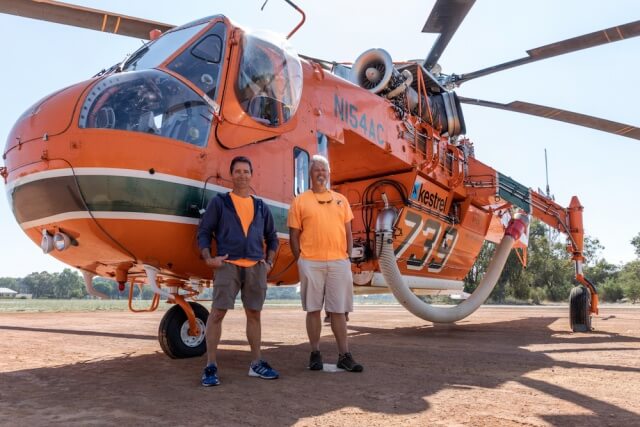 One of the largest Erickson Aircranes in the world, otherwise known as the 'Georgia Peach,' was based at the Serpentine airfield from December to early April.
The American aircraft has been a regular feature at the Serpentine airfield for a number of years and US pilot Stan Smith said the base was perfect.
"I miss being away from my family," he said.
"But I love WA and Serpentine and the rural country."
Mr Smith has more than 30 years aviation experience and said he started flying in 1988.
He has been with Erickson since 2014 and said working on the Georgia Peach was more than just throwing water on fire.
"Fires pose very real threats to homes, lives and families," he said.
"When we are out there in the aircrane we want to do something good for the people."
Texan pilot Rob Boyd said sometimes a fire looked like bombs were going off.
"The heat is so intense and everything on the ground almost turns to glass," he said.
Mr Boyd said this was his first fire season in Perth and described his life as an endless summer.
"We go from place to place when summer is about to start," he said.
"When there is a fire it is as simple as a phone call letting us know and we are good to go in 15 minutes."
The air crane operates in Australia under Kestrel Aviation who is the contractor for the National Aerial Fire Fighting Centre and is managed in WA by the Department of Fire and Emergency Services.
The aerial fire suppression helicopter has been in Western Australia for the bush fire season and has previously operated at numerous large fires including Waroona, Yarloop and O'Sullivan, supporting ground based firefighters..
The S64-E model stands at 7.8 metres in height and 27.23 metres in length cutting an impressive figure.
It carries up to 7,200 litres of water for firebombing.
The Georgia Peach has finished its time at the Serpentine Airfield and after the maintenance crew have worked on it the Aircrane is scheduled to fly to Greece.
It will return to the Serpentine airfield by the end of this year.