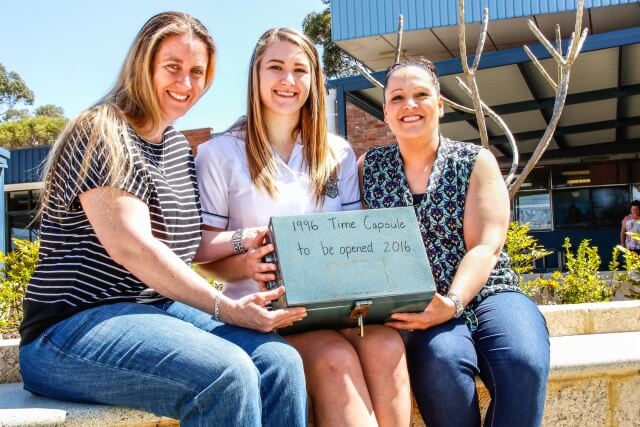 As part of its 40 year celebrations Southern River College in Gosnells is preparing to open its time capsule on October 29 at the school's open day.
Formerly known as Gosnells Senior High, the school's name was changed in 2006.
Former student Nancy Nguyen who was head girl in 1996 handed the time capsule over to current head girl Bianca Odendal.
Mrs Nguyen said she had many fond memories of Gosnells Senior High, as it was known then.
"I know people that were there from the very start and I still have many friends working there today," she said.
"I received a great education at Gosnells SHS.
"I was taught to respect and understand others and how to be a strong person and I made lifelong friends."
Mrs Nguyen said she was one of the year 12 students who placed letters and photos inside the time capsule.
"I can't remember any other significant items but I guess we'll find out when its opened," she said.
Special needs education assistant and coordinator for the 40-year anniversary Kim Prescott-Brown said it was great to see Mrs Nguyen hand the time capsule to Bianca.
"We are proud of our history at the college," she said.
Mrs Prescott-Brown, a former student from 1978 to 1980, said the school's birthday was in February but preparations are underway for an end of year celebration.
"There will be loads of actives and we have retrieved all the old memorabilia from the cupboards."
"I could go on for hours as I am a proud former student."