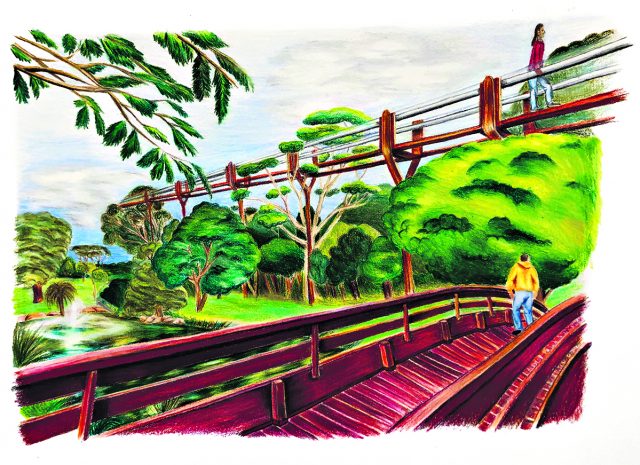 The City of Armadale has unveiled a game-changing plan to take Armadale to new heights and reinvigorate the CBD, with an illuminated treetop walk and cultural precinct now on the table. 
Examiner Newspapers has obtained the first artist's impression of the proposal, which features an elevated walkway connecting the city's administration building, a new rooftop bar, the Jull Street Mall and Armadale train station while providing views of the Minnawarra Lake and Perth's CBD.
Last week, the city council unanimously agreed to finance a pre-feasibility study into the plan, which was one of three options put forward following the submission of the Reconnect Jull Street Mall group's proposal to reopen the mall to one-way traffic. 
It is understood the city has already consulted a number of key stakeholders regarding the plan, many of whom have backed the idea and offered their own suggestions. 
Though the plan has not yet been costed, City of Armadale mayor Ruth Butterfield said a multi-disciplinary team was already being assembled to get the project off the ground. 
"Look, this is not a long-term plan – we're getting on with this now," she said.
"For a long time we, as a council, have been looking at ways to activate the city centre, bring people back and create an environment in which businesses can thrive. 
"But we have been waiting for shopping centres to redevelop, the under-grounding of the railway line and government investment and we're a bit tired of waiting.
"I think this is a game-changer and it will be unlike anything in WA. 
"The city has been able to retain significant sections of large trees in the city centre and it's something we're very proud about. 
"This proposal will leverage off our scarp home and that connection to nature that we have right on our doorstep, while providing free activities for young families and youth close to public transport. 
"Rather than letting the negativity about Armadale continue, we're getting out there and bringing people back into the CBD.
"There is momentum building and I think this will have a tremendous outcome." 
Mayor Butterfield said she was confident the council could get the project off the ground within the next 12 months, sourcing the necessary approvals and issuing tenders for the construction of the walkway and skatepark. 
"It is an enormous job, but we're already pulling together a multi-disciplinary team to get everyone on board," she said.
"There is a lot to work through, but where there is a will, there is a way – and there is definitely a will."