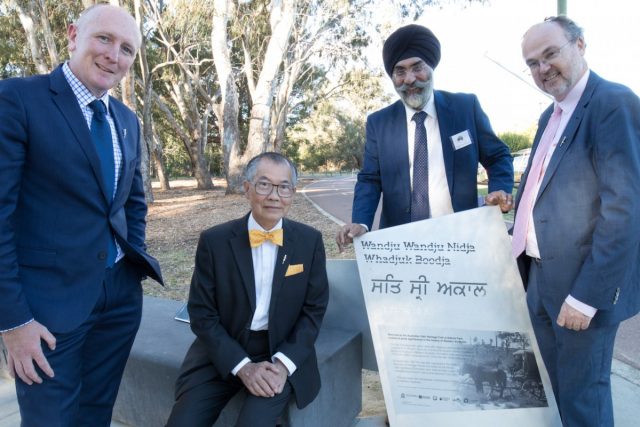 A trail commemorating the history of a major West Australian ethnic group has officially opened in Riverton.
The 250-metre long Sikh Heritage Trail at Riverton's Adenia Park was opened by the Minister for Environment Stephen Dawson, other local MPs and City of Canning mayor Paul Ng on April 17.
It features an upgraded walkway, new historical signage, seating and depictions of Sikh history providing visitors with Australian Sikh history, information on traditional Whadjuk Noongar culture as well as the Swan Canning Riverpark.
Comprised of a series of nodes, each containing a panel with history of the Sikh community and one including a timeline from WA's earliest history until now,
the trail is part of the broader Swan Canning Riverpark Trails Project which connects other landmarks along the river.
Sikh Association of WA president Gurdarshan Singh welcomed the opening
"This is a significant achievement for the Sikh community," he said.
Mr Singh said Sikh people had been part of Australian history longer than many may realise, and were some of the famed ANZACs.
"They have been here since the early years," he said.
"There were 19 ANZAC soldiers who were Sikhs.
"In the beginning they worked as cameleers and hawkers, based in different cities."
Mr Singh said the Sikh Association of Western Australia was currently planning a celebration of the trail for later this year, which will be confirmed at a later date.