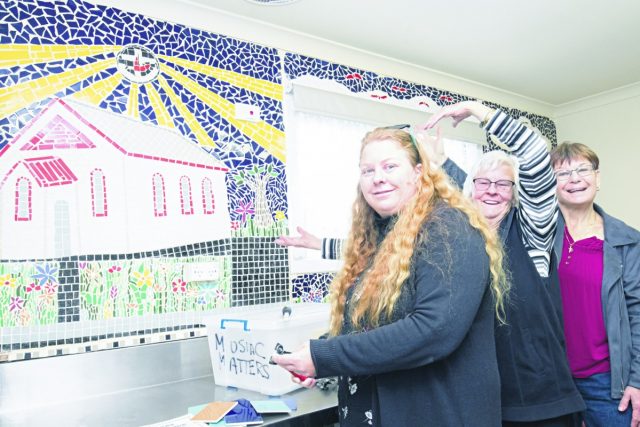 A colourful mosaic creation situated inside the kitchen of a local church has brought the outside inside with beautiful flowers, trees and birds appearing in the one-off masterpiece.
A dozen members of the Mosaic Matters Art and Social Group started the piece at Mundijong Heritage Uniting Church in May 2016.
Completed in four stages the final panel was mounted in late June this year.
Volunteer Marilyn Marsden said the women involved in the project varied in age from young mothers with toddlers to retirees and only two members had previous mosaic experience.
"The mosaic group is a part of the community garden collective so we wanted to capture what was happening in the gardens and the church itself," she said.
"So when deciding what to put on the wall it seemed that the best choice was trees, shrubs, flowers, birds and the church itself which are all found in the grounds of the Uniting Church."
Ms Marsden said the group was pleased with the final piece and happy that their hard work had paid off.
"People who view our work have given us positive feedback and there has been a lot of local excitement about it," she said.
The group now plan to brighten up the outdoor area by mosaicking the tabletops and seats around the barbecue area.
Members of the public are welcome to wander through the garden and see the groups' progress.
For more information about the group call Sam on 0448 520 315.