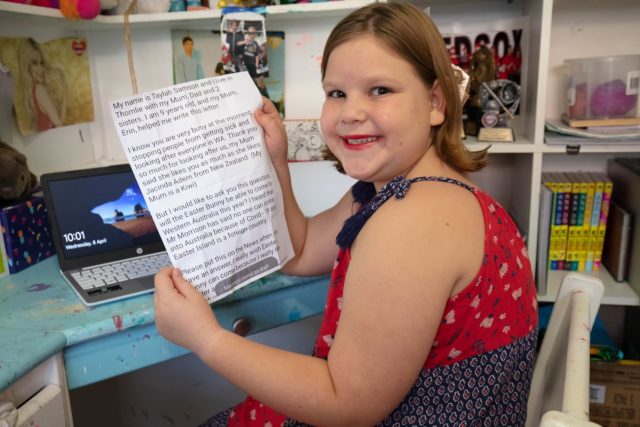 The Easter Bunny is coming to town all thanks to a young Thornlie girl who made it all possible.
Nine-year-old Taylah Samson wrote to premier Mark McGowan following his border closure announcement amid the coronavirus (COVID-19) pandemic.
In the letter she asked Mr McGowan whether the border closure would affect the Easter Bunny's visit to Western Australia.
Little did she know Mr McGowan was going to give her and young children an
'eggs-eptional' response.
On April 3, Mr McGowan published a video telling young Taylah and the children of WA that a special 'eggs-emption' had been made for the Easter Bunny to travel into and within Western Australia.
Taylah said the announcement made her feel extremely happy and excited for the Easter weekend.
"My mum said the Easter Bunny comes when I am not looking, so I don't think I will see him, but if I do, I would thank him for my eggs, and tell him to be careful and wash his hands whenever he can," she said.
"Easter for me is spending time with family, having Easter egg hunts with my sisters' Kamryn and Chelsea and I love being able to have Easter eggs for breakfast."
The brave girl also wanted to issue some advice to young children in isolation who may feel confused or anxious during the health crisis.
"The most important thing to remember is that this is not going to go on forever, and you are safe with your family and loved ones," she said.
"You could also follow me on Tik Tok for some funny videos to make you laugh when you are feeling sad."